Once upon a time, you could buy Harley Quinn vibrators on Etsy. Just the black and red diamond pattern, not an actual Harley or anything.
Anyway, judging by tomorrow's Harley Quinn #16, maybe it's a line that Graphitti Designs might like to explore?
Harley Quinn and Poison Ivy take a trip to the cinema and, after getting kicked out of watching the new Mad Max movie, they take in a showing of Fifty Shades Of Grey, still in distribution.

Yes, lots of single ladies and a humming sound. We all know where this is going, right?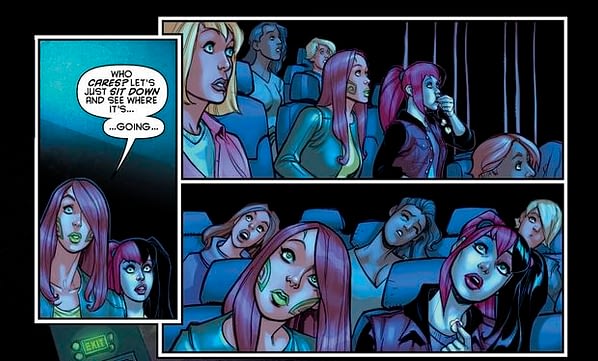 Okay, well it goes there first… and then…
A D battery. Just the kind of thing that might power…
Harley Quinn #16 preview courtesy of the AV Club.
Enjoyed this article? Share it!