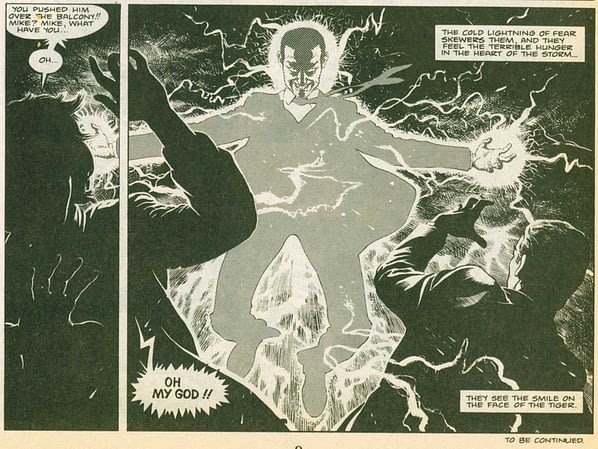 Anyone who knows me, who has every talked to me about Marvelman or Miracleman will know that once two pages of original art by Alan Davis were stolen from me on a tube train, half an hour after buying them from Comics Showcase. I guy grabbed my portfolio and ran off as the doors closed. There was no CCTV back then, and despite being reported, nothing ever turned up. The scene where Winter, in Liz Moran's womb, sees Dr Ganguanza. Yes, exactly.
So that scene won't be in the IDW Artifact Edition of Marvelman, reprinting the comic from the original artboards of Garry Leach, Alan Davis and John Totleben, the news given to Comics Alliance by IDW PR. As ever the aim is to make the pages look as close to the original  boards at the original size as much as possible.
It also represents a chance for IDW editor Scott Dunbier, editor on the ABC titles at DC/Wildstorm until he was fired over The Black Dossier to work with the work of Alan Moore again, even though Moore's name cannot be mentioned on the projects, as it is with Marvel Comics. Dunbier pioneered these projects at IDW, after it was rejected at DC.
Miracleman Artifact Edition HC
The Original Writer (w) • Garry Leach, Alan Davis, John Totleben, and more (a) • John Totleben (c)
Miracleman was launched 30 years ago in the now legendary Warrior magazine. It turned the concept of "super-hero" on its ear with big ideas that helped redefine an entire genre… when Miracleman fought Kid Miracle Man on the streets of London… well, things would never be the same.
And then there was the art.
Miracleman had a true knack for bringing out the best work from extraordinary artists. Starting with co-creator Garry Leach, followed by Alan Davis (and others) and finishing with one of the most amazing endings in comics history by the phenomenal John Totleben, Miracleman was a work of art painted on a grand canvas, unlike anything before or since.
HC • BW • $95.00 net discount item • 144 Pages • 15" x 20" • ISBN: 978-1-63140-392-7