By Carlos M.
Wizard World hosted its first Fan Fest Chicago this weekend. With free entrance for those that had purchased 4 day passes to the August Chicago Wizard show, and with a relatively low entrance prices for those that hadn't ($15 for single day entrance and $25 for Saturday and Sunday), for what it was worth it wasn't a bad way to spend a couple of hours.
If you went in looking for a humongous show with a ton of comics and cosplay, this wasn't the show for you. If you went in without any big expectations, wanted a couple of hours to browse around 'geek' related items, and wanted to see a handful of celebrities, then this was a good show for you.
Touted as a thank you to its fans, Wizard had a decent lineup of guests from your current favorite shows (Norman Reedus of Walking Dead fame was a huge draw) as well as those from your favorite shows of yesterday (Karyn Parsons aka Hillary from The Fresh Prince of Bel-Air was there along with Tracey Gold from Growing Pains amongst others).
The Wizard staff hosted good Q&A's with some of the celebrities in the main hall throughout the day, and the two that I heard speak – Karyn Parsons & David Faustino, were fun and interesting. Both were very charismatic, engaging and had quite a bit of things that they continued working on post their big shows. And Karyn looked just as great as she did when she was on the show!
Additionally, Wizard had a cool gaming setup with a number of old arcade games with free game play that was a fun addition. It was a good way to kill a little time in between waiting for the Q&A's.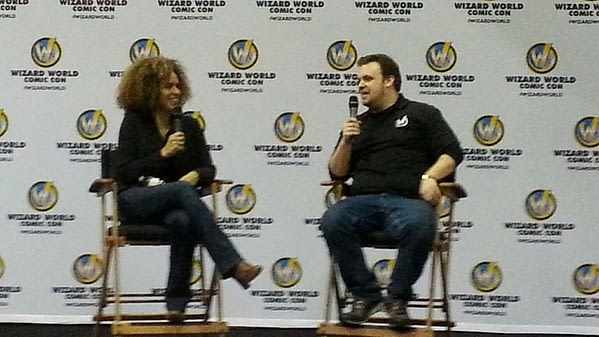 On the downside, despite it being in prime location on the show floor, the show's version of an Artist Alley was completely dead. And despite a lack of activity, both artists that I stopped by to see (Neal Adams & Michael Golden) were still asking top dollar for their sketches. I guess there is something to be said for pricing discipline.
All in all, again it was a good way to spend a few hours. Not much damage on the wallet and a good way to get your 'con fix' in Chicago in advance of other upcoming shows.
For more con related pics, feel free to follow Carlos M. via Instagram (screen name: eewwnuk).