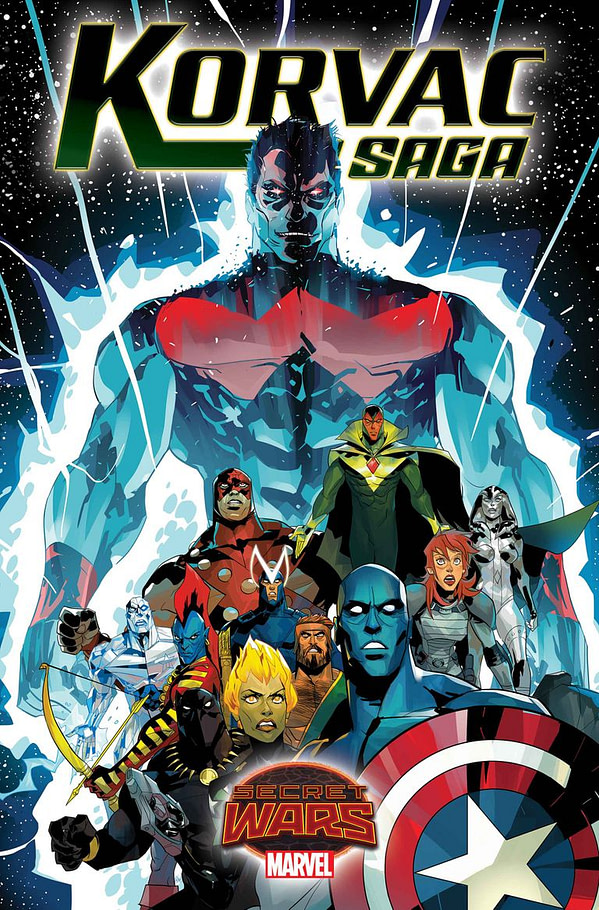 A handy Secret Wars checklist so far looking at information supplied. We;ll try and update as more comes in…
Secret Wars: Ultimate End #1
Inhumans: Attilan Rising #1
Secret Wars: Battleworld #1
Secret Wars: Master of Kung Fu #1
Secret Wars Journal #1
Ghost Racers #1
Thors #1
Age of Ultron vs Marvel Zombies #1
Starlord and Kitty Pryde #1
Marvel Zombies #1
Runaways #1
Secret Wars: 2099 #1
Deadpool's Secret Secret Wars #1
Where Monsters Dwell #1
MODOK: Assassin #1
Inferno #1
Spider-Verse #1
Planet Hulk #1
Old Man Logan #1
Infinity Gauntlet #1
Korvac Saga #1
X-Tinction Agenda #1
Civil War #1
Years Of Future Past #1
Armor Wars #1
House Of M #1
Age Of Apocalypse #1
Future Imperfect #1
Renew Your Vows #1
A Vs X #1
X-Men 92 #1
Amazing Spider-Man
Amazing Spider-Man Point
Silk
Spider Woman
Spider Gwen
Rocket Racoon
Silver Surfer
Guardians Team Up
Ms. Marvel
Howard The Duck
Unbeatable Squirrel Girl
Daredevil
SHIELD
Angela
Deathlok
Ant Man
Punisher
Black Widow
Moon Knight
Loki
Mighty Avengers
Bucky Barnes
Magneto
Expected to end for the interim… or completely?
Thor
Captain Marvel
Guardians 3000
Hulk
Superior Iron Man
Nova
Wolverines
There were 59 different Marvel Universe titles solicited in April. Several of those were minis to cash in on the Avengers movie. Alonso said there would be fewer titles during Secret Wars. Looks so far, with a few more likely to be announced, that won't be true. A lot of books will probably tie into the Last Days banner in June/July/August  to see their series out. Storm, Deathlok, Mighty Avengers, Loki, Punisher, Black Widow, Daredevil, Bucky. Captain Marvel may end with Hala Fields, but with a film on the way, it may also return with the same creative team. And where are those Gamora, Doctor Strange and Black Panther series? On the way…
Enjoyed this article? Share it!