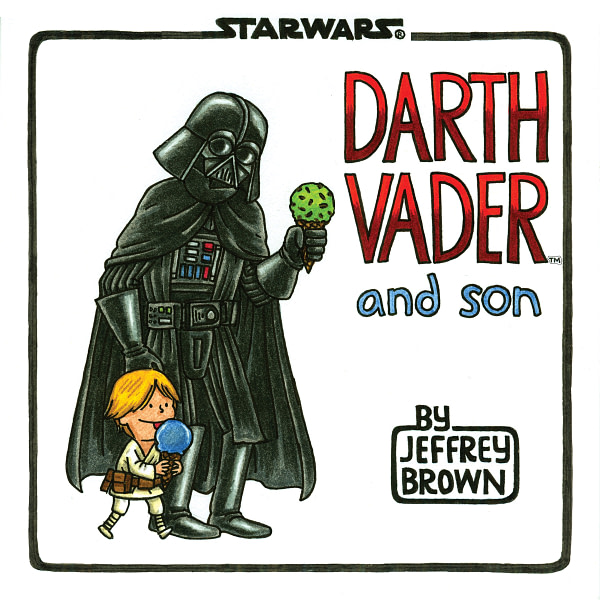 Greetings from the coal face of the direct comics market. Where retailers try to increase their orders of certain comics ahead of sale. Where supply and demand and most accurately reflected, where you can see which books are hot, where new orders are coming in and how retailers are reacting to new, unanticipated desire!
And, in the wake of Star Wars #1 burning through a million-strong first print (and a slightly smaller second print) Darth Vader #1 is now getting the retailer attention as they suddenly up all their numbers on the book, with a variety of cover choices, taking ten of the twenty-five advance reorder slots and one for Darth Vader #2 already.
Okay, not the image above. But any chance to run it.
Other notable books getting more intention by the launch of Guardians Team-Up, more for Spider-Verse's Amazing Spider-Man, Spider-Gwen and Spider-Woman, Black Vortex's Guardian Of The Galax, Thor #5 and the new Ms. Marvel trade… with just a little love for DC's Mortal Kombat X and Harley Quinn's Valentine's Special.
TOP 25 ADVANCE REORDER COMICS/GRAPHIC NOVELS/TPs (RETAIL)
| | | |
| --- | --- | --- |
| Product | Price | Publisher |
| DARTH VADER #1 | $4.99 | MAR |
| DARTH VADER #1 ACTION FIGURE VAR | $4.99 | MAR |
| DARTH VADER #1 YOUNG VAR | $4.99 | MAR |
| DARTH VADER #1 BLANK VAR | $4.99 | MAR |
| GUARDIANS TEAM-UP #1 | $3.99 | MAR |
| DARTH VADER #1 MOVIE VAR | $4.99 | MAR |
| AMAZING SPIDER-MAN #14 NOTO VAR SV | $3.99 | MAR |
| THOR #5 | $3.99 | MAR |
| AMAZING SPIDER-MAN #14 SV | $3.99 | MAR |
| SPIDER-GWEN #1 | $3.99 | MAR |
| DARTH VADER #1 DEL MUNDO VAR | $4.99 | MAR |
| DARTH VADER #1 GOLDEN VAR | $4.99 | MAR |
| MORTAL KOMBAT X #2 (MR) | $3.99 | DC |
| DARTH VADER #1 CASSADAY TEASER VAR | $4.99 | MAR |
| MS MARVEL TP VOL 02 GENERATION WHY | $15.99 | MAR |
| GUARDIANS OF GALAXY #24 BV | $3.99 | MAR |
| BITCH PLANET #1 2ND PTG (MR) | $3.50 | IMA |
| DARTH VADER #2 | $3.99 | MAR |
| HARLEY QUINN VALENTINES DAY SPECIAL #1 BLANK VAR ED | $4.99 | DC |
| DARTH VADER #1 ROSS VAR | $4.99 | MAR |
| HARLEY QUINN VALENTINES DAY SPECIAL #1 VAR ED | $4.99 | DC |
| DARTH VADER #1 CAMPBELL CONNECTING VAR B | $4.99 | MAR |
| GUARDIANS TEAM-UP #1 YOUNG VAR | $3.99 | MAR |
| SPIDER-WOMAN #4 SV | $3.99 | MAR |
| THOR #5 NOTO VAR | $3.99 | MAR |
TOP 25 REORDER COMICS/GRAPHIC NOVELS/TPs (RETAIL)
| | | |
| --- | --- | --- |
| Publisher | Price | Publisher |
| SAGA TP VOL 04 (MR) | $14.99 | IMA |
| STAR WARS #1 | $4.99 | MAR |
| SAGA TP VOL 02 (MR) | $14.99 | IMA |
| ABSOLUTE BATMAN INCORPORATED HC | $125.00 | DC |
| SAGA DLX ED HC VOL 01 | $49.99 | IMA |
| CIVIL WAR TP | $24.99 | MAR |
| GUARDIANS OF GALAXY TP VOL 01 COSMIC AVENGERS | $19.99 | MAR |
| SAGA TP VOL 01 (MR) | $9.99 | IMA |
| SAGA TP VOL 03 (MR) | $14.99 | IMA |
| WALKING DEAD COMPENDIUM TP VOL 01 (MR) | $59.99 | IMA |
| MS MARVEL TP VOL 01 NO NORMAL | $15.99 | MAR |
| WALKING DEAD TP VOL 01 DAYS GONE BYE | $14.99 | IMA |
| BATMAN HUSH COMPLETE TP | $24.99 | DC |
| WALKING DEAD TP VOL 02 MILES BEHIND US (NEW PTG) | $14.99 | IMA |
| BATMAN TP VOL 02 THE CITY OF OWLS (N52) | $16.99 | DC |
| STAR WARS MARVEL YRS OMNIBUS HC VOL 01 CHAYKIN CVR | $125.00 | MAR |
| BATMAN THE KILLING JOKE SPECIAL ED HC | $17.99 | DC |
| DEADPOOL KILLS MARVEL UNIVERSE TP | $14.99 | MAR |
| AMAZING SPIDER-MAN #12 SV | $3.99 | MAR |
| BATMAN ETERNAL TP VOL 01  (N52) | $39.99 | DC |
| BATMAN DARK KNIGHT RETURNS TP | $19.99 | DC |
| INFINITY GAUNTLET TP | $24.99 | MAR |
| DEADPOOL BY DANIEL WAY COMPLETE COLL TP VOL 01 | $34.99 | MAR |
| BATMAN THE LONG HALLOWEEN TP | $24.99 | DC |
| WALKING DEAD COMPENDIUM TP VOL 02 (MR) | $59.99 | IMA |