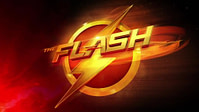 More news coming out of the Television Critics Association today… the freshman series The Flash has already been renewed for season 2. It's partner series Arrow has also been renewed for a fourth season.
The CW was in a generous mood as it also gave early renewals to Jane the Virgin (Season 2). The Original (Season 3), Reign (Season 3), The 100 (Season 3), The Vampire Diaries (Season 7) and Supernatural (Season 11).
CW president Mark Pedowitz said: "By picking up these shows now, our executive producers can start planning next season's storylines, and rolling these shows out throughout next season guarantees."
[Source: Deadline]