Besides the relaunch of the John Carter: Warlord of Mars series, Dynamite is also publishing a one-shot special by Robert Place Napton that taps as the villains a group that has not been seen in the comics, but are part of the novels. Byron Brewer talked to Napton about the special and how it fits in with the new continuity being told.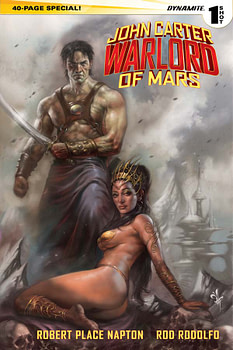 BYRON BREWER: Can you tell us how this John Carter Special came about? Why is John Carter a character you enjoy writing?
ROBERT PLACE NAPTON: Prior to the recent re-launch I wrote several of the Mars comics for Dynamite, so I was pleased to stretch my hands toward the red star and return to Barsoom when Joe Rybandt gave me the call.  Edgar Rice Burroughs' Mars stories are so much fun to write.  John Carter is the grandpa of Flash Gordon, Luke Skywalker, and so many other science fiction adventurers.  The world of Burroughs is so rich with awesome creatures, environments and peoples.  It's a great sandbox to play in.
BB: Is this story a stand-alone or within the continuity of Ron Marz' Carter?
RPN: It stands alone, but my intention is to create a story that is consistent with the new comic book continuity that Ron's stories have kicked off.  This is a new chapter for the Mars books at Dynamite and Ron's stuff has been a really great jumping on point for new and old fans alike, so I'm trying to follow the same path and have a story that doesn't require previous knowledge, but if you happen to be a fan of the books there's some nice Easter eggs for you.
BB: Any hints at what could possibly threaten the Warlord of Mars and his very capable wife within their own palace?
RPN: It's a foe that you haven't seen in any of the prior Dynamite Mars books, but if you have read the novels you might recognize them.  They are not like any adversary Carter has faced on Barsoom (that's your hint!)
BB: Carter and Deja must make "questionable alliances." Can you tell us who or at least give us some hints?
RPN: The old proverb, "The enemy of my enemy is my friend," does play a part in this story.  Carter and Dejah find themselves against the ropes and they look to the stars for help, that's all I can say.
BB: How did it feel to work with Rod Rodolfo? Why is he the right artist for this "special."
RPN: Rod's fantastic.  Among the things he does so well are otherworldly creatures.  I'm really enjoying working with him on this story and I think readers will really enjoy his take on Barsoom.
BB: Would you like to do more Burroughs adventures like we find in John Carter?
RPN: It's always fun to return to Mars.  I loved the stories as a kid, so getting to play with the creations of Edgar Rice Burroughs is always a thrill.  When the God of War calls upon me again, I will be there.  I hope readers enjoy the one-shot adventure!
For more on the John Carter: Warlords Of Mars Special, click here.