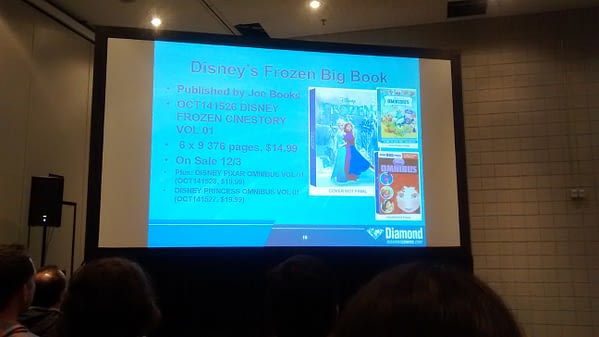 We mentioned this was coming a couple of weeks ago. But at this morning's Diamond Retailer Breakfast at NYCC, Diamond was keen to emphasise the sales potential of the Disney Frozen Cinestory published by Joe's Books and coming to comic book stores in early December.
This book takes still frames of the film and turns them into a graphic novel, three hundred pages long. It's another way to experience the story that has made a billion… but this time in a way that comic stores can take advantage of.
Right now, it's not available on Amazon or the like. The only way to get a copy is through your local comic store.
Add the Pixar book and the Disney Princess books, a number of comic stores are going to have a very merry Christmas indeed.
Fearless optimist Anna sets off on an epic journey – teaming up with rugged mountain man Kristoff and his loyal reindeer Sven – to find her sister Elsa, whose icy powers have trapped the kingdom of Arendelle in eternal winter. Encountering mystical trolls and a hilarious snowman named Olaf along the way, Anna and Kristoff battle the elements in a race to save the kingdom. Audiences who thrilled to the adventures of Anna and Elsa on the big screen can relive their favorite moments in this oversized graphic novel keepsake featuring an introduction by Leonard Maltin. With hundreds of movie stills and over 300 pages of adventure and laughs, the Frozen Cinestory will transport fans back to Arendelle time and time again!
Enjoyed this article? Share it!