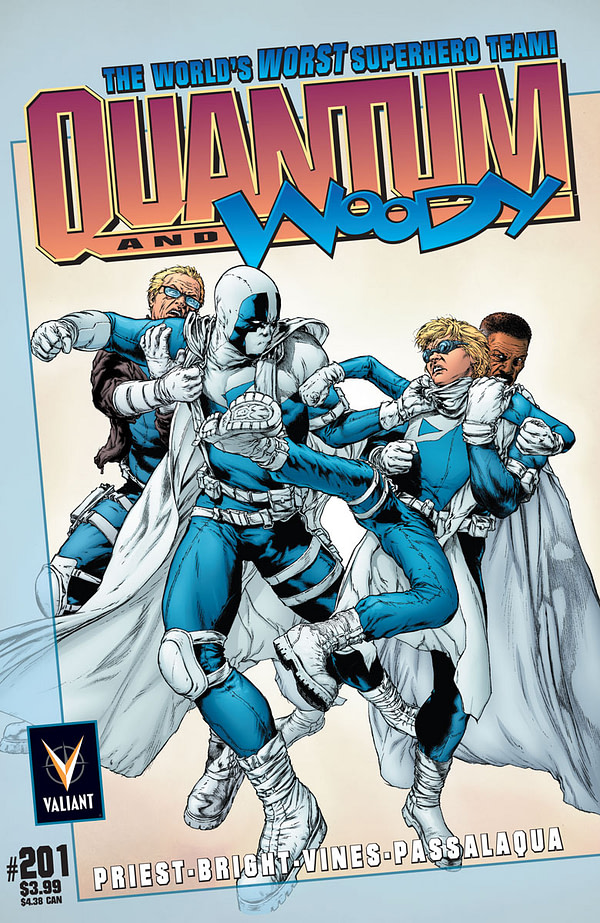 These are the three Throwback Variant covers for Priest & Bright's Q2: The Return of Quantum and Woody #1-3.
Just as Quantum & Woody's initial run saw the comic skip #18-#31 and go right to #32, with the intention of then filling in the gaps, so Valiant is assembling a series of variant covers for their new Q2 by Priest and MD Bright, artists who contributed to the original Acclaim Comics series – MD Bright, Bart Sears, and Oscar Jimenez, for starters.
So now, as we see what would have happened if the series had never been on a break and was celebrating its 200th issue, the covers also feature Quantum and Woody's original Acclaim-era logo, trade dress, and numbering – as if the original never ended.
Which is the conceit of Q2, a comic that picks up the story twenty years of publishing in…
Q2: The Return of Quantum & Woody #1 (of 5) arrives in stores on October 15th.