 When I was growing up, I had heard a rumor that our local mall was being used to film a movie. They were shooting late at night, after all the stores were closed and we could go up and see it as they were shooting outside. This sounded like a lot of fun to me, so we headed up there and watched as a man in a long white coat and a guy in a down vest too to warm for the current weather stood around a silver car with flip-up doors. I also noticed that the sign that usually said Puente Hills Mall now said Twin Pines Mall.
The Back To The Future franchise has always had a special place in my heart since that night. Every time I see that scene I feel like I was part of it. I can't see a Delorean drive by without thinking of the film.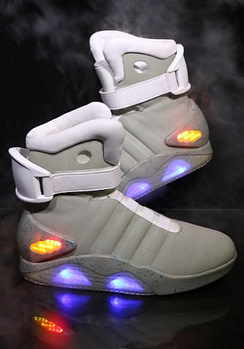 I was thinking about that as I got a note from a friend a HalloweenCostumes.com. They are the folks who have shared some very cool info-graphics with us about different superheroes' costumes and more. She was letting me know that they have teamed up with Universal to be the exclusive distributors for the Back To The Future 2 light-up shoes that we saw Marty McFly wear as he rode the hover-board.
Now she says that they have quite a waiting list for these shoes and it's growing. They're due to come in at the end of the month but are expected to sell out quickly and be hard to find. Now sadly, I wear a size 15 and they stop at 14… so I'm a bit bummed. But I thought I would pass this information on to any of the Back To The Future fans out there who want to grab a pair. Good luck.