By Justin Carmona with special thanks to Meagan O'Toole

If you've been regularly reading Bleeding Cool this past year you might have stumbled upon a few articles that have dealt with all the controversy that surrounds our city as of late. It started with allegations against the El Paso Comic Con (EPCON), which suggested that the promoters were not paying celebrity guests their agreed upon contractual fees, and lying about scheduled celebrities who were billed to attend who actually had no intention of being guests of the show.
More recently you may have read a story about El Paso's Mayhem Toyz & Comics, a new shop to our city, whose owners were accused of illegally downloading and printing unauthorized artwork and selling them as prints without any of the original artists' prior knowledge or consent. Now whether any of these allegations against either party are true or not is not the purpose of this article. I'm not here to lay blame or point fingers, nor am I here to defend any of the accused. The only thing that prompted me to write this is the fact that I feel the El Paso comic book scene may have a bad reputation from all this negative press. I love my city, I love our ever expanding comic book community, and I'm here to set the record straight by highlighting the positives of what out city to offer: honest and reputable shops, great conventions and absolutely talented creators.
The Shops:
While El Paso currently has about six shops dedicated to comic books, toys and the like, there are three that stand out in terms of quality, customer service and all around awesomeness.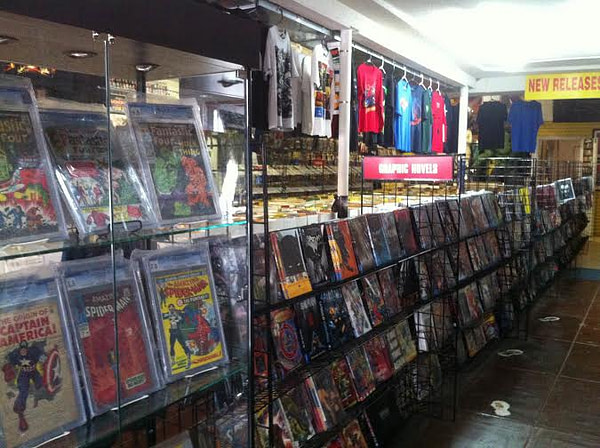 All Star Comics & Games has been around since 1986 and have the most diverse inventory specializing in Silver Age comics, new comics, original artwork, prints, Warhammer and Dungeons and Dragons gaming systems. Plus you should see their graphic novel section — it's enormous. It's no wonder it's been a favorite hotspot for over 25 years. Located near the Fort Bliss military base, All Star Comics is also a favorite stop among G.I's. looking to get their weekly comic book and gaming fix. When asked about the success of his business, owner Brad Wilson says, "I love what I do, I have a strong work ethic and I make it a point to attend conventions outside the city four to five times a year to keep my finger on the industry pulse of what's hot. But his main priority is to provide consistent customer service which he thinks "is a lost art in business nowadays." Greg Lara has been running Asylum Comic & Cards for the past six years, which is a shop known in town for holding a number of in-store events throughout the year. From Fourth of July parties, Halloween Comicfests to Subscription Members Only parties, Asylum brings a fun atmosphere that makes anyone who walks in their shop feel at home. And while every shop in town is local-talent friendly, Asylum goes the extra mile by hosting local comic book creators from Merc Studios every new comic book Wednesday where they set up to sell their original prints and do sketches for customers. "It's a very quiet market for local talent, and it's our way to let them get the exposure they deserve whether it [is through their] art or a new local book," Lara said. "We do what we can to keep them going."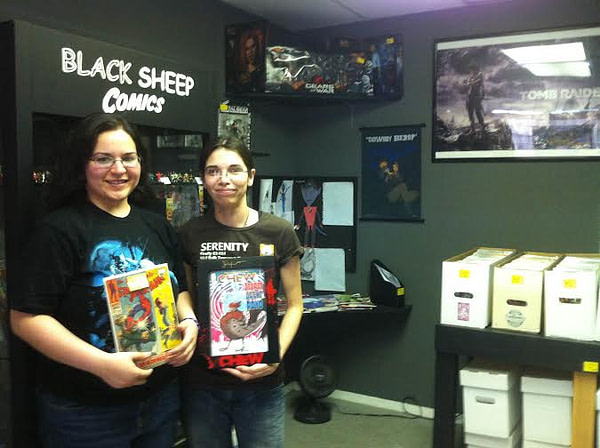 Don't let the small size of Black Sheep Comics fool you. The shop might be little, but it offers one hell of a gigantic wallop! Opened just under a year ago by lifelong comic book readers, Bianca Chavira and Naomi Ordonez, Black Sheep Comics bucks the system by creating a shop that is friendly and welcoming to every customer that walks through its doors, especially its female customers. "The majority of comic shops we have been to in other cities, we felt we were treated differently because we are females," Chavira said. "Males are given top priority, where females are either ignored or treated as if they have no business being there." They host a monthly Female Appreciation Day, where all females save 15 percent on all new comics. This is just another great example of the quality of comic book shops found in El Paso that care about serving its clientele.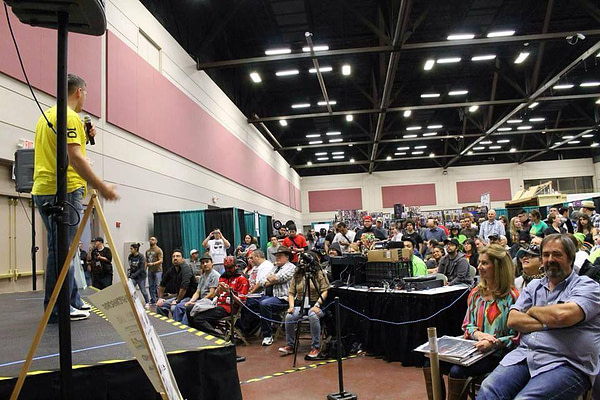 Started in 2012 by the mother and son team of Jeannine and Ean Puhlman, the Sun City Sci-Fi Con has gone from a modest little convention here in El Paso into a major player of the Southwest. The Puhlman's got their start attending conventions all over the country to learn, according to Ean, "every aspect of a con, which gives us a unique perspective. El Paso has such a unique culture and atmosphere, so we really wanted to incorporate that and have a con that is unique to El Paso." In their travels going from one con to another, the Puhlman's have been able to establish a reputable network which has opened the doors to bringing in celebrity guests such as the amazing, Ray Park (Star Wars, GI Joe and X-Men), to the larger than life, Peter Mayhew, who portrayed Chewbacca in the original Star Wars films. Not only is the Sun City Sci-Fi Con run like a smooth, well-oiled machine, it has great guests, amazing exhibitors and awesome retailers, plus some of the best fans and attendees around.
The Talent: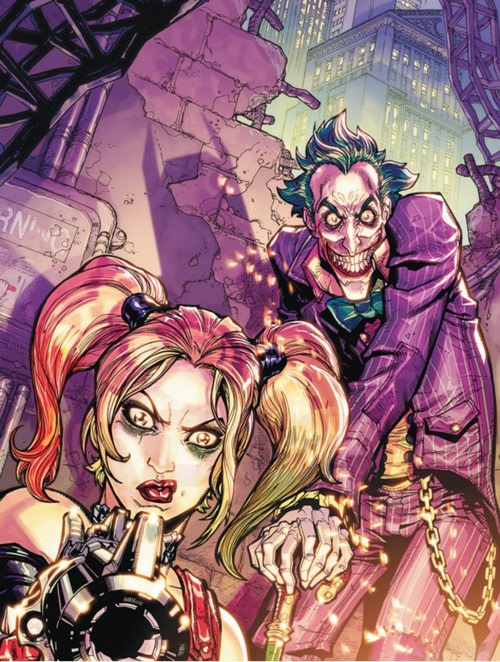 Not only is El Paso the hometown to two amazing Wildstorm alums, comic book artists, Carlos D'Anda (Deathblow, Batman: Arkham Asylum, Dark Horse's Star Wars) and rising star Eddie Nunez (DC's Flashpoint: Lois Lane), but it has also given birth to a small, but diverse and highly talented bunch of independent and small press talent. Traditional painter extraordinaire, Jaime Carrillo, has been putting brush to canvas for about twenty years and painting professionally for about ten. He got his start by realizing that instead of purchasing posters and prints of artwork he idolized, he could try his own hand at painting and hopefully produce something just as good. According to Carrillo, after much blood, sweat and tears, he "made a portfolio and went down to the San Diego Comic Con to show my [artwork] to people." Needless to say, it paid off. Carrillo's work has been published dozens of times in a variety of formats including images for Wizards of the Coast (home of Dungeons and Dragons), licensed t-shirts for Metallica, Anthrax, Iron Maiden, Avenged Sevenfold and a cover for Heavy Metal Magazine.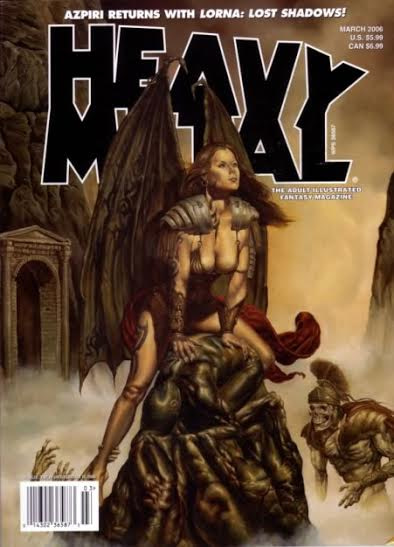 Rudy Vasquez has been drawing comics professionally for nine years, choosing comics as his medium of choice because "unlike standalone art or design, I get to tell a story." With influences ranging from John Romita Sr. to Jim Lee, Vasquez has honed his craft to a style all his own while working on a bevy of independent books and contributing to the world of digital comics with Carnival Comic's The Funhouse of Horrors and Carnival of Souls series. After wrapping up his current artistic commitments, Vasquez plans on working on some creator-owned material that he has held off on. "The time feels right to do my own thing."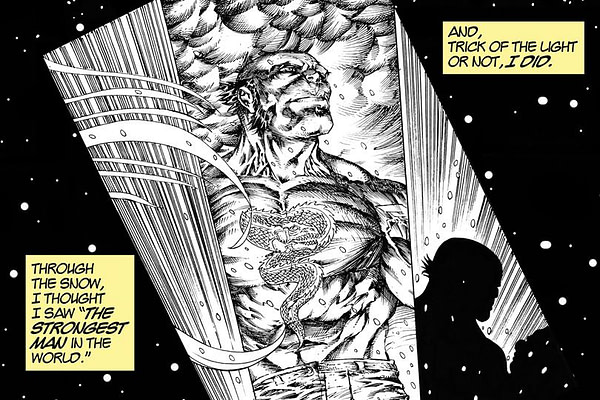 If there is any one creator that has put the city of El Paso in the forefront of the small press landscape it is Jaime Portillo. He is a writer who has used the Sun City as the backdrop for every book he has self-published. A comic book fan since he was a little kid, Portillo has gone from fan to creator, giving birth to the Xeric Foundation Grant winning graphic novel, Gabriel, which fictionally chronicles the exploits of an El Pasoan-turned-vampire who is connected to the murders of hundreds of women in Juarez, Mexico. Portillo has since written two more graphic novels based out of the Sun City, the supernatural horror book, The Railroad Killer and his Wild West History Organization's Award-winning historical drama, Hell Paso: The Story of Dallas Stoudenmire. Why El Paso? According to Portillo, "I have been enamored with El Paso's history and I always wanted to tell [stories] from the city's past. [El Paso] has a friendly, unique and rich history."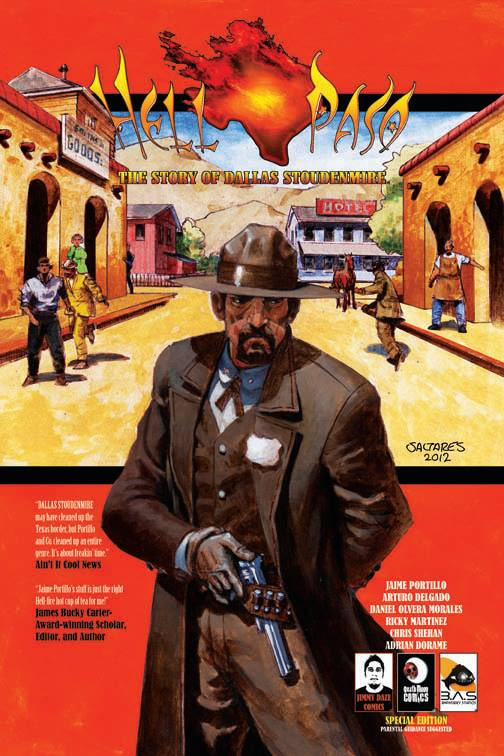 Urban Myth, one of El Paso's many talented small press comic book studios started as a "mutually shared goal of creating the best [comic book] stories we could," according to founding member, Joey Lee Cabral (Kause of Death). Cabral and his brother Erick (Red Bratva), along with a crew of other powerhouse talents, have made it a point to attend as many Comic Book Conventions and shows as possible since their inception and it has paid off beautifully, "We've taken our time to build from the ground up and we've improved our [artistic] standards. We've been lucky enough to build a loyal following that have watched our art game progress and evolve."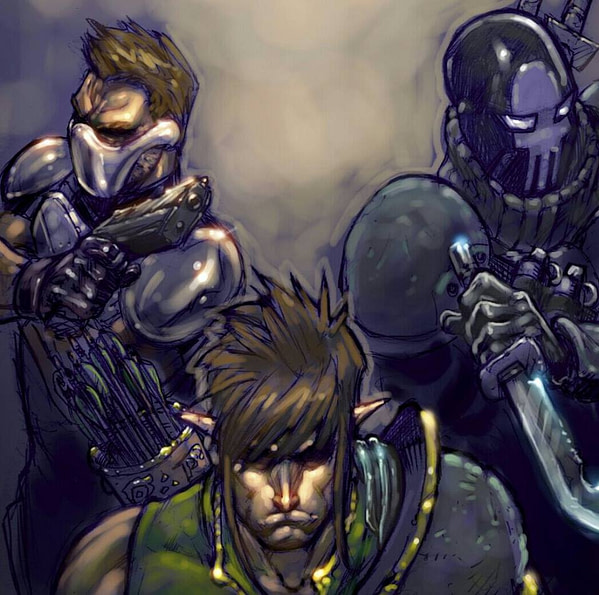 Project 4 Studios got its start with artist Sirac, myself and a few others by self-publishing what was intended to be our first and only comic book effort, "Hired Gun." Instead, we ended up giving birth to Project 4 Studios which has spawned a number of other titles by a growing list of talent. Project 4 may not have the continual output of some of the other studios in town, but we hold fast and true to the standard of putting out quality over quantity. According to one of our founding members, Hugo Cantu, "we strive for quality in everything we do. Unfortunately, most of us have a ton of other commitments with work, school and family, but when we do put out new material we are very proud of the final product."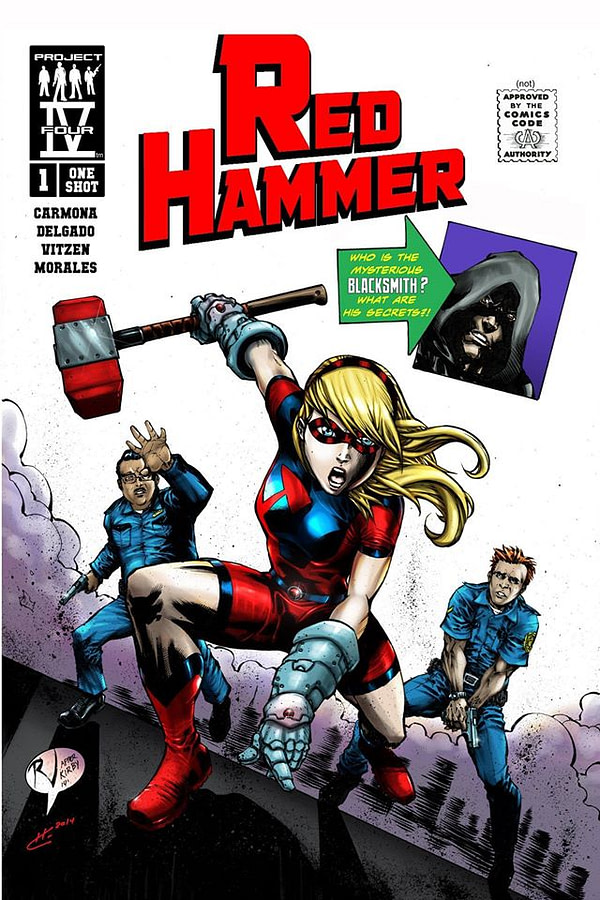 Merc Studios came together because of a "common passion to not only create comics and original prints, but to create a group that is able to utilize all our member's unique talents," according to studio founding member, Manny Hernandez. With a membership of ten artists and writers, Merc is home to a very uniquely diverse and creative style, ranging from traditional western comic book style to anime and American cartoon. Merc also has a working relationship with El Paso's Sun City Sci-Fi Con by designing their mascot, Sun City Cid, The Sci-Fi Kid. When asking founding member, Mike Quevedo, what he thinks of El Paso's Comic Book Shops, "Local comic stores such as Asylum Comics and All-Star Comics & Games have been very supportive of the local talent. Without support from them and other honestly run shops like them, I don't know if we'd ever get the exposure we need."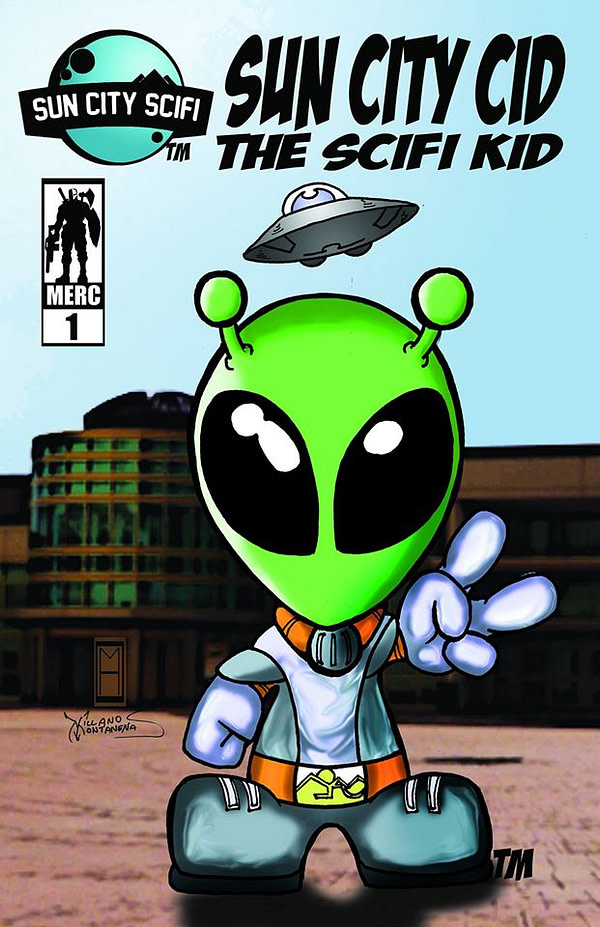 Again, the El Paso Comic Book Scene has been the focal point of negative press and I'm not here to blame or defend any of the accused. Deciding whether you think there have been some shady practices among a select few in El Paso's Comic Book Community is up to you. But what I do want you to walk away with after reading this is this: Despite all the bad press this city has received, we do have honest, reputable retailers, professionally run conventions and some of the hungriest and talented creators you're likely to find here or anywhere else.
When Justin Carmona isn't freelance writing or working on his creator-owned comics, Hired Gun and Red Hammer, he can be found sniffing glue and eating paint chips behind your house.