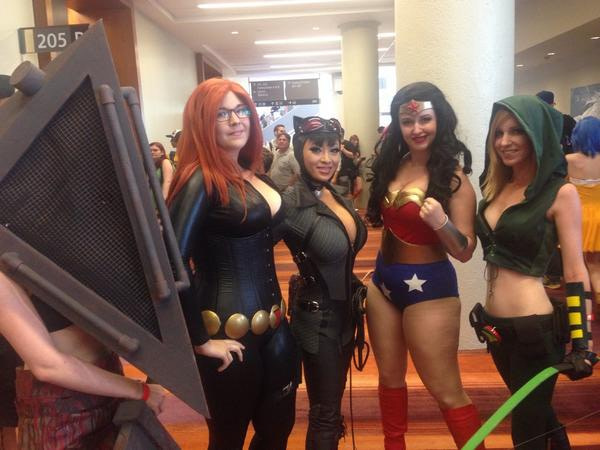 Diana McCallum writes for Bleeding Cool from Fan Expo
The first DC panel of the weekend at Fan Expo was "DC Entertainment: All Access 101", hosted by Larry Ganem from DC Entertainment. It seemed like "All Access" meant "feel free to ask anything – but the answer will probably be No Comment."
The panel started with a round-up of the Batman 75 events that had taken place over the past few months, including screenings of the previously released Batman animated shorts by Bruce Timm and Darwyn Cooke.
Ganem then spoke about Batman as a flagship comic and said that with the Zero Year story over, there will be a few filler issues and then Snyder and Capullo will be back on Batman to "start a storyline that's going to make all the other stories look small"
In response to a fan question regarding the possibility of bringing back the Infinity Inc. characters, Ganem answered, "Infinity Inc, we have to wait for the right time with that one."
The panel really lived up to its abbreviated title of DC 101 as it then moved through many more already released trailers, including Batman: Assault on Arkham, Batman '66, Arkham Knight and Lego Batman 3.
Moving on to TV, Lanem noted that DC would have "four, possibly five, shows on network television this year." The four of course being Gotham, Flash, Arrow and Constantine and the fifth being iZombie, based on the Vertigo comics. They had no trailer or release dates for iZombie but said they "hope to be a midseason replacement", so if you're an iZombie fan cross your fingers that CW puts out something cancellable in the Fall.
Another audience member asked why DC Entertainment hasn't brought a booth for the showroom floor at Fan Expo for the past two years. Lanem's reply made a lot of sense, as the DC booth always seemed pretty empty even when it was around in previous years.
"One of the reasons that we have booths at shows is that we bring the artists to the booth and they sign. Here the artist's alley is pretty open and the artists are signing all the time so it seemed a little awkward for us to be pulling them away from their table so they can sign for an hour here. It didn't make it very special. Also the budget for getting the stuff across the border, it's a little difficult."
It's worth noting that Marvel also has no presence on the showroom floor. Despite Fan Expo being the third biggest convention in North America, it seems no one wants to lug a display across the border.
Diana McCallum is a writer and the co-creator of Texts from Superheroes. She can be found on Twitter at https://twitter.com/WordsOfDiana
Enjoyed this article? Share it!