Greetings from the coal face of the direct comics market. Where retailers try to increase their orders of certain comics ahead of sale. Where supply and demand and most accurately reflected, where you can see which books are hot, where new orders are coming in and how retailers are reacting to new, unanticipated desire!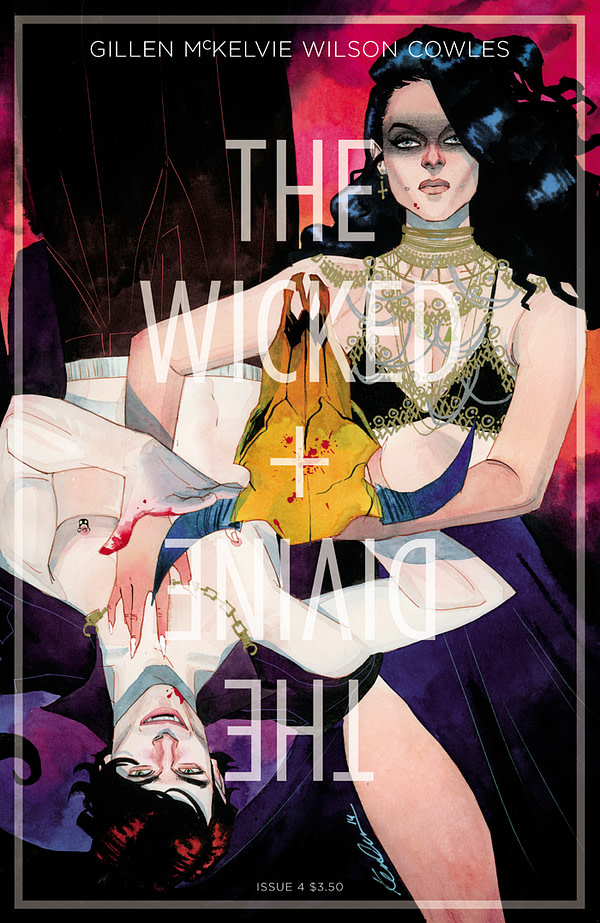 So this is how it goes. The Wicked + The Divine's solicitations come out. Retailers look at them, hum and haw, and place their orders. And then, just before the Final Order Cut-Off date, Image Comics let them now that another artist is doing another cover and bazam, they get a flood more orders. It worked with Stephanie Harris and now it has worked with Kevin Wada.
I do also think that George Perez' Sirens might have received more attention. Bt we'll know on publication…
TOP 25 ADVANCE REORDER COMICS/GRAPHIC NOVELS/TPs (RETAIL)
Description
SRP
Vendor
WICKED & DIVINE #4 CVR B WADA (MR)
$3.50
IMA
EDGE OF SPIDER-VERSE #2 (OF 5)
$3.99
MAR
ROCKET RACCOON #2 2ND PTG YOUNG VAR
$3.99
MAR
MULTIVERSITY THE SOCIETY OF SUPER-HEROES #1
$4.99
DC
OUTCAST BY KIRKMAN & AZACETA #1 4TH PTG (MR)
$2.99
IMA
AMAZING SPIDER-MAN TP VOL 01 PARKER LUCK
$17.99
MAR
THOR GOD OF THUNDER #25
$4.99
MAR
DEADPOOL BI-ANNUAL #1
$4.99
MAR
WOLVERINE AND X-MEN #9
$3.99
MAR
AVENGERS #35 TRO
$4.99
MAR
CHEW WARRIOR POYO SDCC ORANGE FOIL VAR (NET)
$10.00
IMA
MILES MORALES ULTIMATE SPIDER-MAN #5
$3.99
MAR
ALL NEW X-MEN #32
$3.99
MAR
THOR GOD OF THUNDER #25 BISLEY VAR
$4.99
MAR
NAILBITER #3 SDCC VAR (NET)
$10.00
IMA
FIGMENT #3 (OF 5) 2ND PTG CHRISTOPHER VAR
$3.99
MAR
UNCANNY X-MEN #26
$3.99
MAR
GEORGE PEREZ SIRENS #1 MAIN CVRS
$3.99
BOO
RAGNAROK #2
$3.99
IDW
THOR GOD OF THUNDER #25 GUERA VAR
$4.99
MAR
SENSATION COMICS FEATURING WONDER WOMAN #2
$3.99
DC
RAGNAROK #2 SUBSCRIPTION VAR
$3.99
IDW
SUPREME BLUE ROSE #1 SDCC VAR (NET)
$10.00
IMA
FADE OUT #2 (MR)
$3.50
IMA
FADE OUT #1 2ND PTG (MR)
$3.50
IMA
And from comics that have already shipped, the collected Guardians Of The Galaxy by Abnett and Lanning takes the top spot for the second week.
TOP 25 REORDER COMICS/GRAPHIC NOVELS/TPs (RETAIL)
Description
SRP
Vendor
GOTG BY ABNETT AND LANNING COMPLETE COLL TP VOL 01
$34.99
MAR
GUARDIANS OF GALAXY TP VOL 01 COSMIC AVENGERS
$19.99
MAR
WATCHMEN HC
$39.99
DC
INFINITY GAUNTLET TP
$24.99
MAR
SAGA TP VOL 03 (MR)
$14.99
IMA
THANOS INFINITY REVELATION OGN HC
$24.99
MAR
SAGA TP VOL 02 (MR)
$14.99
IMA
COURTNEY CRUMRIN SPEC ED HC VOL 06
$24.99
ONI*
BRIGHTEST DAY OMNIBUS HC
$75.00
DC
BATMAN THE KILLING JOKE SPECIAL ED HC
$17.99
DC
WALKING DEAD TP VOL 01 DAYS GONE BYE
$14.99
IMA
BATMAN DARK KNIGHT RETURNS TP
$19.99
DC
WALKING DEAD TP VOL 21 ALL OUT WAR PT 2 (MR)
$14.99
IMA
SAGA TP VOL 01 (MR)
$9.99
IMA
AMAZING SPIDER-MAN #5 SIN
$3.99
MAR
DEADPOOL KILLS MARVEL UNIVERSE TP
$14.99
MAR
DEADPOOL BY DANIEL WAY COMPLETE COLL TP VOL 01
$34.99
MAR
ROCKET RACCOON #2
$3.99
MAR
ROCKET RACCOON #1 2ND PTG YOUNG VAR ANMN
$3.99
MAR
CIVIL WAR TP
$24.99
MAR
WALKING DEAD COMPENDIUM TP VOL 01 (MR)
$59.99
IMA
WOLVERINE OLD MAN LOGAN TP
$29.99
MAR
BATMAN COURT OF OWLS BOOK & MASK SET (N52)
$24.99
DC
SEX CRIMINALS TP VOL 01 (MR)
$9.99
IMA
WALKING DEAD COMPENDIUM TP VOL 02 (MR)
$59.99
IMA