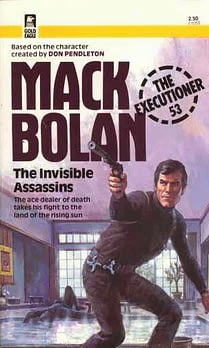 After 40 years and over 900 different volumes in the novel series, Don Pendleton's Mack Bolan may finally be coming to the big screen. Deadline told us that the character created by in 1969 has been a potential film vehicle for Steve McQueen, Sylvester Stallone, Clint Eastwood and Vin Diesel in the past… but now it's going to be an action role for Bradley Cooper…
Pendleton wrote the first 38 novels in 11 years then sold the character to Worldwide Library where at its peak they were producing 2 books a month and still put out 12 books a year all by ghost writers working under Pendleton's supervision. The deal is for the 38 original books, the 870+ ghost-written novels and includes the spin-off series Able Team, Phoenix Force, Super Bolan and Stony Man.
Joining Cooper on the Warner Bros project will be director Todd Phillips (The Hangover) and screenwriter Shane Salerno (Aliens Vs Predator: Requiem).
Enjoyed this article? Share it!