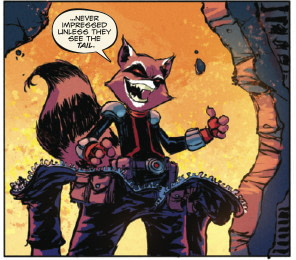 That's the power of Loot Crate. But Rocket would probably still have had the top spot anyway when a certain film was already on the way and soon to be released.
150,000 of the 300,000 preorders through Diamond for Rocket Raccoon #1 by Skottie Young were reserved for the aforementioned geek subscription service.
But that still left 150,000 for normal direct market comic stores. And the usual market leader, Batman by Scott Snyder and Greg Capullo was pushed to second place in July's comics sales chart.
And while this helped Marvel grab back some of the marketshare DC had taken from them in recent months, DC are still ahead of where they were earlier in the year.
So in May, June and July, DC Comics' dollar share dropped from 30.04% to 29.88% to 28.18%. While their unit share, the number of actual comics sold regardless of price, fell from 33.52% to 33.20% to 31.32%. Lower, sure, but compared to April's 23.65% and 27.24% respectively, it's still well above where it was. This can be credited to a mix of themed variant covers and the success of the new weekly titles.
Meanwhile Marvel's dollar share, which dropped from 34.38% to 33.71% last month, jumped up to 35.09% and their unit share which had fallen from 36.46% to 35.68%, leapt back up to 38.39%.
As well as Rocket, the launch of Spider-Man 2099, two issues of Original Sin, the appearance of Silk in Amazing Spider-Man and the launch of fellow Guardians book Star-Lord, helped push Marvel's sales in July, claiming six out of the top ten spots compared to DC's four.
Image Comics increased their dollar share from 8.93% to 9.25% but not their unit share, which fell from 10.51% to 9.82%. This could indicate a smaller price rise at the publisher with more titles moving from $2.99 to $3.50 or $3.99 – or it could simply be the new Walking Dead collection being released, taking the top of the graphic novel chart. Meanwhile, IDW pushed both their marketshare for dollar and unit sales ahead of Dark Horse.
But for everyone, sales went up last month.  July was a five week month compared to June's four weeks, but it saw a much larger rise, over 30% increase in dollars spent and almost 30% increase in unit sales. After a few softer months earlier in 2014, it appears that direct market sales are on the rise again, folks…
TOP COMIC BOOK PUBLISHERS
RETAIL MARKET SHARE
PUBLISHER
SHARE
MARVEL COMICS
35.09%
DC ENTERTAINMENT
28.18%
IMAGE COMICS
9.25%
IDW PUBLISHING
5.21%
DARK HORSE COMICS
5.02%
DYNAMITE ENTERTAINMENT
2.18%
ARCHIE COMICS
2.04%
BOOM! STUDIOS
1.76%
EAGLEMOSS PUBLICATIONS LTD
1.05%
ZENESCOPE ENTERTAINMENT INC
1.05%
OTHER NON-TOP 10
9.18%

UNIT MARKET SHARE
PUBLISHER
SHARE
MARVEL COMICS
38.39%
DC ENTERTAINMENT
31.32%
IMAGE COMICS
9.82%
IDW PUBLISHING
4.11%
DARK HORSE COMICS
3.80%
DYNAMITE ENTERTAINMENT
2.16%
ARCHIE COMICS
1.88%
BOOM! STUDIOS
1.78%
TITAN
1.03%
VALIANT ENTERTAINMENT LLC
0.89%
OTHER NON-TOP 10
4.81%
NEW TITLES SHIPPED
| | | | | |
| --- | --- | --- | --- | --- |
| PUBLISHER | COMICS SHIPPED | GRAPHIC NOVELS SHIPPED | MAGAZINES SHIPPED | TOTAL SHIPPED |
| MARVEL COMICS | 93 | 36 | 0 | 129 |
| DC ENTERTAINMENT | 97 | 31 | 0 | 128 |
| IMAGE COMICS | 66 | 17 | 0 | 83 |
| IDW PUBLISHING | 48 | 31 | 0 | 79 |
| DARK HORSE COMICS | 39 | 29 | 0 | 68 |
| DYNAMITE ENTERTAINMENT | 40 | 4 | 0 | 44 |
| BOOM! STUDIOS | 29 | 4 | 0 | 33 |
| ZENESCOPE ENTERTAINMENT | 14 | 4 | 0 | 18 |
| ARCHIE COMICS | 15 | 5 | 0 | 20 |
| EAGLEMOSS PUBLICATIONS | 0 | 0 | 10 | 10 |
| OTHER NON-TOP 10 | 89 | 151 | 39 | 279 |
COMPARATIVE SALES STATISTICS
 
DOLLARS
UNITS
JULY 2014 VS. JUNE 2014
COMICS
32.22%
29.25%
GRAPHIC NOVELS
21.04%
24.64%
TOTAL COMICS/GN
28.66%
28.88%
JULY 2014 VS. JULY 2013
COMICS
19.23%
14.73%
GRAPHIC NOVELS
4.84%
4.59%
TOTAL COMICS/GN
14.52%
13.87%
YEAR-TO-DATE 2014 VS. YEAR-TO-DATE 2013
COMICS
1.76%
-3.16%
GRAPHIC NOVELS
3.25%
5.27%
TOTAL COMICS/GN
2.22%
-2.51%
TOP 10 COMIC BOOKS
| | | | | |
| --- | --- | --- | --- | --- |
| RANK | DESCRIPTION | PRICE | | VENDOR |
| 1 | ROCKET RACCOON #1 | $3.99 | | MAR |
| 2 | BATMAN #33 | $4.99 | | DC |
| 3 | AMAZING SPIDER-MAN #4 | $3.99 | | MAR |
| 4 | ORIGINAL SIN #5 | $3.99 | | MAR |
| 5 | SPIDER-MAN 2099 #1 | $3.99 | | MAR |
| 6 | ORIGINAL SIN #6 | $3.99 | | MAR |
| 7 | JUSTICE LEAGUE #32 | $3.99 | | DC |
| 8 | GRAYSON #1 | $2.99 | | DC |
| 9 | THE LEGENDARY STAR-LORD #1 | $3.99 | | MAR |
| 10 | HARLEY QUINN #8 | $2.99 | | DC |
TOP 10 GRAPHIC NOVELS & TRADE PAPERBACKS
| | | | | |
| --- | --- | --- | --- | --- |
| RANK | DESCRIPTION | PRICE | | VENDOR |
| 1 | THE WALKING DEAD VOL. 21: ALL-OUT WAR PART 2 (MR) | $14.99 | | IMA |
| 2 | AVATAR: THE LAST AIRBENDER VOL. 8: RIFT PART 2 TP | $10.99 | | DAR |
| 3 | DEADLY CLASS VOLUME 1: REAGAN YOUTH TP (MR) | $9.99 | | IMA |
| 4 | SAGA VOLUME 1 TP (MR) | $9.99 | | IMA |
| 5 | BRYAN LEE O'MALLEY: SECONDS GN | $25.00 | | RAN |
| 6 | DEADPOOL VOLUME 5: THE WEDDING OF DEADPOOL TP | $15.99 | | MAR |
| 7 | SAGA VOLUME 3 TP (MR) | $14.99 | | IMA |
| 8 | STAR WARS: THE LUCAS DRAFT TP | $19.99 | | DAR |
| 9 | BATMAN VOLUME 1: THE COURT OF OWLS TP | $16.99 | | DC |
| 10 | LAZARUS VOLUME 2: LIFT TP (MR) | $14.99 | | IMA |
TOP 10 BOOKS
| | | | | |
| --- | --- | --- | --- | --- |
| RANK | DESCRIPTION | PRICE | | VENDOR |
| 1 | THE OVERSTREET COMIC BOOK PRICE GUIDE VOLUME 44 SC | $29.95 | | GEM |
| 2 | THE OVERSTREET COMIC BOOK PRICE GUIDE VOLUME 44 HC | $35.00 | | GEM |
| 3 | STAR WARS: GOODNIGHT, DARTH VADER HC | $14.95 | | CHR |
| 4 | THE SAKAI PROJECT: 30 YEARS OF USAGI YOJIMBO HC | $29.99 | | DAR |
| 5 | WILLIAM SHAKESPEARE'S THE JEDI DOTH RETURN HC | $14.95 | | RAN |
| 6 | MIKE MIGNOLA'S HELLBOY ARTIST'S EDITION | $95.00 | | IDW |
| 7 | STERANKO'S NICK FURY, AGENT OF SHIELD ARTIST'S EDITION | $112.50 | | IDW |
| 8 | GUARDIANS OF THE GALAXY: AN ORIGIN STORY YR HC | $12.99 | | HAC |
| 9 | FRANK MILLER: THE ART OF SIN CITY TP | $25.00 | | DAR |
| 10 | THE SHADOW DOUBLE NOVEL ANNUAL VOLUME 1 SC | $14.95 | | SAN |
TOP 10 TOYS
| | | | |
| --- | --- | --- | --- |
| RANK | DESCRIPTION | | VENDOR |
| 1 | ARKHAM ASYLUM: THE JOKER/HARLEY QUINN/BATMAN/THE SCARECROW ACTION FIGURE 4-PACK | | DC |
| 2 | MARVEL SELECT: CAPTAIN AMERICA: THE WINTER SOLDIER: THE FALCON ACTION FIGURE | | DST |
| 3 | POWER RANGERS LEGACY DRAGONZORD | | BAN |
| 4 | DC COMICS: BATGIRL "NEW 52" ARTFX+ STATUE | | KOT |
| 5 | DC COMICS SUPER VILLAINS: ARMORED LEX LUTHOR DELUXE FIGURE | | DC |
| 6 | MARVEL: SPIDER-WOMAN BISHOUJO STATUE | | KOT |
| 7 | DC COMICS: NEW 52 POWERGIRL & HUNTRESS ACTION FIGURE 2-PACK | | DC |
| 8 | DC COMICS: NEW 52 EARTH-2 WONDER WOMAN ACTION FIGURE | | DC |
| 9 | TEENAGE MUTANT NINJA TURLES MINI-FIGURES SERIES 1 | | BEA |
| 10 | DC COMICS COVER GIRLS: POISON IVY STATUE | | DC |
TOP 10 GAMES
| | | | |
| --- | --- | --- | --- |
| RANK | DESCRIPTION | | VENDOR |
| 1 | MARVEL HEROCLIX: GUARDIANS OF THE GALAXY BOOSTER PACKS | | NEC |
| 2 | MONOPOLY: THE WALKING DEAD SURVIVAL EDITION | | USA |
| 3 | MAGIC THE GATHERING TCG: 2015 CORE SET BOOSTER PACKS | | WIZ |
| 4 | MARVEL HEROCLIX: GUARDIANS OF THE GALAXY STARTER SET | | NEC |
| 5 | RISK LEGACY | | HAS |
| 6 | MAGIC THE GATHERING TCG: 2015 CORE SET FAT PACK | | WIZ |
| 7 | JUSTICE LEAGUE STRATEGY GAME | | NEC |
| 8 | DC HEROCLIX: WAR OF LIGHT BOOSTER BRICK WAVE 1 | | NEC |
| 9 | MARVEL LEGENDARY: VILLAINS DECK BUILDING GAME CORE SET | | WIZ |
| 10 | THE BIG BANG THEORY MONOPOLY | | USA |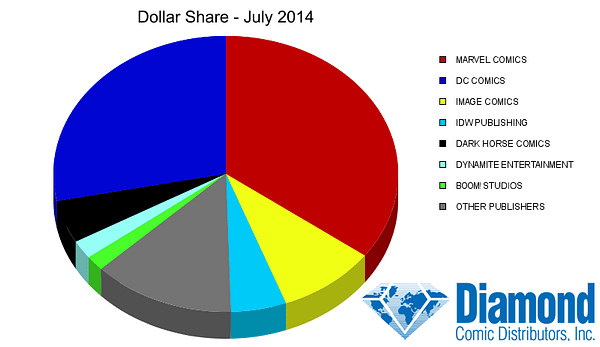 Dollar Market Share – July 2014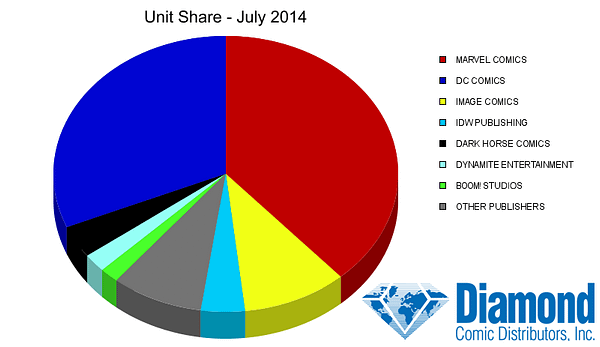 Unit Market Share – July 2014