Diana McCallum writes for Bleeding Cool:
I'm willing to bet a lot of you know who the manliest Canadian superhero of all time is. Or at least, a lot of you probably think you know because I bet most of you didn't just seductively whisper the name "Brok Windsor" as an answer like you should have.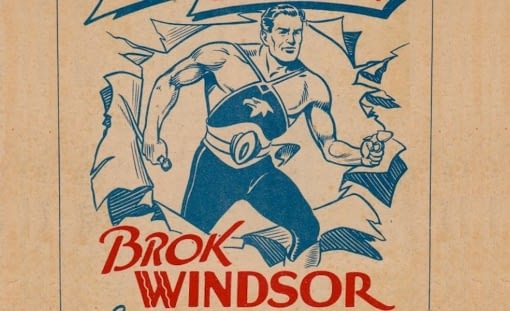 [This guy.]
Most of you probably said Wolverine, of course, but let's me ask you a few further questions. Has Wolverine ever had a girlfriend who was a giant? Can he heal himself and other people because he has a degree in badassery and medicine? Does he partake in appalling orgies of killing?
All right, he does, but whereas Wolverine can't remember his past, Brok Windsor knows exactly who he is.
Created by legendary Canadian artist Jon Stables, Brok is a Golden Age superhero who first appeared in Better Comics in 1944. Like most Canadian comics published at that time Brok Windsor was popular in the Great White North thanks to the War Exchange Conservation Act (WECA) which banned the import of luxury goods from the United States into Canada, including comic books.
With no Supermans or Batmans to fill the bookshelves this began the period known as Canada's Golden Age of Comics when Canada began creating their own massively popular titles, selling millions of copies from 1941 to 1946. But when American comics returned to the news stands at the end of the war the local industry just couldn't compete and most of these great Canadian heroes, like Brok Windsor, were forgotten.
In addition, Brok once used a demon's head like a soccer ball, which I'd argue has equal cultural importance.
When we first meet Brok Windsor he's a simple outdoorsman who just wanted to take a manly canoe trip and ends up being granted super strength when he lands on an island of giants. Over the next few issues Brok uses his new powers and giant friends to battle evil ghosts, human-eating rats, lions and a complete inability to keep all his clothes on.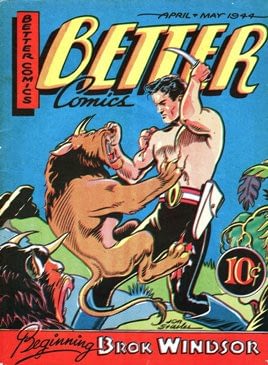 So, Brok Windsor sounds pretty cool, right? I bet you'd love to read about the Golden Age adventures of Brok Windsor. Well unfortunately you can't. Yet. Despite being a part of comic book history, the adventures of Brok Windsor are not available online, they're not available at your local library, they're not available anywhere, they're just gone. All of that is set to change very soon though because Hope Nicholson, a professional researcher and comic book historian, just launched her Kickstarter campaign to bring Brok Windsor back to bookshelves where he belongs.
And Nicholson is just the person for the job. A producer specializing in comic book history, she was recently the associate producer of the documentary "Lost Heroes" for Superchannel and just reprinted another lost Golden Age title, "Nelvana of the Northern Lights: Canada's First Superheroine".
Last year Nicholson launched a Kickstarter campaign to fund her restoration and reprinting of Nelvana, which was a massive success. Nelvana is now collected, restored and available in print for the first time in over 70 years in beautiful soft cover and hard cover books from IDW Publishing and she wants the same for Brok Windsor.
With a pantheon of lost heroes to choose from for her next project, I asked Nicholson why Brok Windsor had caught her eye.
"I only knew two things," Nicholson said about Brok Windsor. "He was published in Vancouver, and he was gorgeous. Like drop-dead, beautiful artwork. There were other characters I was interested in, but I only get involved in projects that I can fall in love with. Getting the issues in my hands confirmed my choice. It was beautiful artwork, a compelling story, and had a self-reflexive sense of humour that you don't often see in golden age comic books." Nicholson's goal is to find, restore and reprint Brok's complete adventures and she'll scour every personal collection and microfiche library she has to in order to get this piece of history under your eyeballs and into your hands.
"I will need to go and find the comics, scan them, restore them so they're readable as they've been damaged through decades of neglect, and print them into a full collection."
It's no easy task as it involves travelling across the country to find original copies of some very old comics, but she's done it before and with your help she can do it again.
The Brok Windsor Kickstarter launched on August 1st and ends September 29th, so if you have any interest in helping to restore a piece of comic book history, or just supporting manliness in general, you should check it out. It's a great chance to support a lost piece of history and also get some amazing pledge gifts such as original artwork by over a dozen professional artists like Yanick Paquette, Marco Rudy, Leonard Kirk and Ray Fawkes to name a few.
If you want a small taste of the big project you'll be supporting you can read an entire unrestored issue of Brok's adventures at http://brokwindsor.com/read-an-issue/ or check out Brok's Kickstarter page for all the information you need on Canada's Manliest Superhero.
http://brokwindsor.com/kickstarter
Enjoyed this article? Share it!