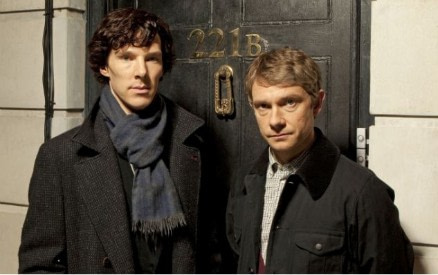 I had heard that the next episode of Steven Moffat and Mark Gatiss' Sherlock was going to be a Christmas special. I'd initially been led to believe that it would air in 2014, though I obviously started to doubt that quite quickly when Martin Freeman and Benedict Cumberbatch filled out their calendars with other gigs.
But Freeman has now told The Telegraph that we can expect this one-off episode at the end of 2015 instead.
I'm speaking off-message here; if this was New Labour I'd get fired – I think that might be for next Christmas. A Christmas special. That's what I understand.
As for what this special might be about… well, I refer you to a tweet I made when the last episode aired.
There's something the fandom really wants to know about the BBC's Sherlock. There was a plain-sight clue to the answer in tonight's episode.

— Brendon Connelly (@brendonconnelly) January 12, 2014
Notice how the last episode was set at Christmas? Well, it wouldn't be unlike a Christmas special to take over the festive period, would it? And it wouldn't be unlike Moffat and Gatiss to write a story that continued on directly from the last one…
Knowing what I knew about plans for a Christmas special, it seemed pretty conspicuous to me how it was going to connect, in the broadest sense at least, to His Last Vow the story we'd just seen.
Incidentally, some people are misreading this snippet in The Telegraph:
indicating that a full-blown series is unlikely.
Freeman wasn't necessarily saying a fourth series is unlikely forever, just as the next move.
Enjoyed this article? Share it!