Last week, Titan Merchandise announced the launch of their Breaking Bad 'Heisenberg Collection' line of vinyl figures, and they are following that with another new line announcement today. Soon we'll see the arrival of Alien TITANS: The Nostromo Collection. Titan have teamed up with 20th Century Fox to produce the entire crew of the USS Nostromo from the Alien films, and of course their "stowaway" in a 12 piece collection, and in a touch of dark humor, their Xenomorph has been nick-named "Big Chap".
The collection includes Ash, Kane, Ellen Ripley, and the various stages of the evolutionary process for their Alien, all available in 3" blind box format with 4 "hidden chase" figures as well. Their evolving Alien versions have the charming names "Egg, Facehugger, Chestburster, and adult Alien". Good times laced with nostalgia of freaky carnage in the long running and beloved film property. Titan have a natural relationship with science fiction characters, so this makes for a particularly appealing fit.
Here's the full line-up display of the collection: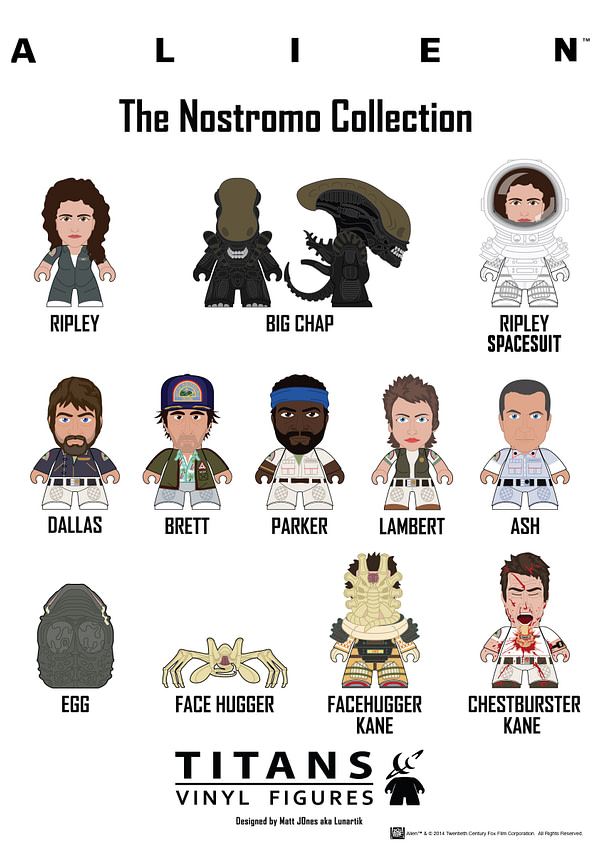 And here are some detail images for the figures:
The Alien TITANS will be available for pre-order through Diamond and Entertainment Earth in the USA and through Forbidden Planet in the UK, and will reach shops in early January 2015.