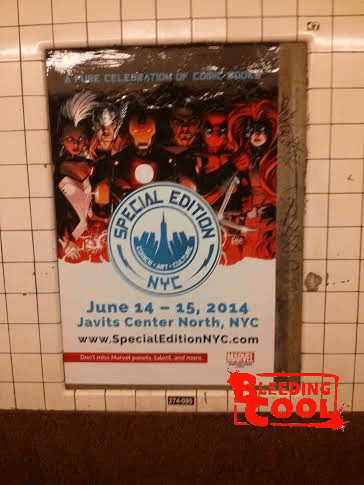 Taken on the NYC Subway, a poster for the upcoming Special Edition NYC Comic Convention, a show focussing on comics and used to promote the larger NYCC later in the year, and an opportunity for Marvel Comics to establish themselves very much as a New York publisher – and one that is staying here. Most of them.
But it also appears to show the other side to Marvel's AXIS cover by Jim Cheung showing us all the heroes who will be diametrically opposing Green Goblin, Loki, Red Skull, Doctor Doom and Carnage, originally scooped by Bleeding Cool last week.
We caught some of them in a reflection before, but here's the full official line up. Storm, Thor, Iron Man, Cage, Deadpool and Medusa.
Rather lacking in Spidey, considering….
Enjoyed this article? Share it!