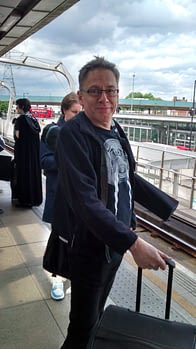 I bumped into David Hine on the Dockland Light Railway platform heading into yesterday's MCM London Expo, laden down as he was with comics to sell – including his signed script-with-a-signed-comic innovative way for writers to, basically, do what artists do at comic conventions.
He also told me of his current plans and some work on the way, such as his new Mark Stafford series being published in the Meanwhile anthology from Soaring Penguin Press soon.
But also that we would be getting a return series for Storm Dogs with artist Doug Braithwaite, the science fiction series that, along its way, explored all manner of human and humanesque behaviour, including one transgender character that attracted all sorts of plaudits.
Anyway, it's back. Sometime soon.
Enjoyed this article? Share it!