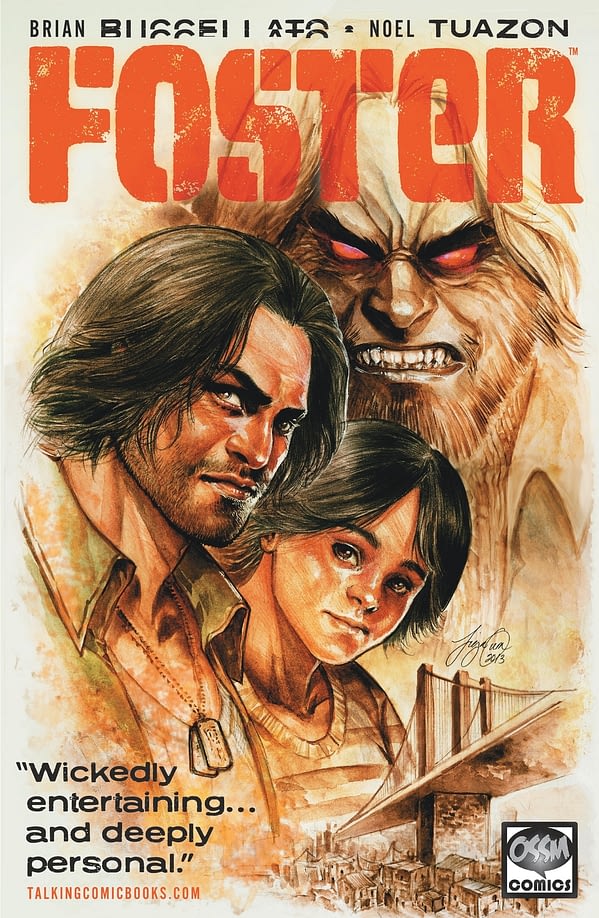 Brian Buccellato, writer with Francis Manapul on The Flash and now Detective Comics, has written a creator-owned graphic novel out for July, with art from Noel Tuazon.
Originally having five issues out of six published by small press publisher by Dog Year Entertainment, this will be the first time the story will be completed.
And, of course, more people are likely to have heard of Brian Buccellato now…
Set against the backdrop of late 60's/early 70's urban crime movies, FOSTER follows a haunted war veteran who finds himself the guardian of a 6 year-old boy being hunted by a shadowy race of brutal creatures, rising up from the darkness.
"FOSTER is such a personal story for me. As a father of a teenage boy, I wanted to write about fatherhood and specifically the male need to protect your child from the physical dangers of the world," said Buccellato. "Foster's trying to forget the Vietnam War at the bottom of a bottle when he encounters a boy who changes his life. Suddenly he has to navigate a world where technology is stuck in the analog '70s and supernatural creatures and twisted scientists lurk around every corner. Noel Tuazon really captured the gritty, urban horror at the heart of this story."
(Last Updated
April 22, 2014 7:09 am
)
Related Posts
None found