There are spoilers for today's issue of Invincible by Robert Kirkman, the author of The Walking Dead and Ryan Ottley below.
It is not unknown for rape to be a part of superhero comic books. Whether that's the attempted rape of Evey in V For Vendetta, the rape of Sue Dibny in Identity Crisis, of Katie in Kick Ass 2, or the uncertainty over Barbara Gordon's role in The Killing Joke, or the possibility of what this might mean for Superior Spider-Man and Mary Jane Watson, it's fair to say that rape has been used as a plot point in comics, and other media, without considering wider factors regarding how women are portrayed in superhero comic books as a whole. As Mark Millar once said,
"The ultimate [act] that would be the taboo, to show how bad some villain is, was to have somebody being raped, you know?" he told me. "I don't really think it matters. It's the same as, like, a decapitation. It's just a horrible act to show that somebody's a bad guy."
Male-on-male rape is also a factor, sometimes seen as being easier to get away with, even to be joked about, with Millar invoking that in Authority as well as suggesting that a character who molested Peter Parker as a child return as The Buggernaut. Also see Bueno Excellente in Garth Ennis and John McCrea's Hitman.
The rape of men by women is a far rarer thing. Hulk: Future Imperfect comes to mind, but there didn't seem to be many long term psychological concerns for the Hulk, distressing as it was for the character at the time. Other examples tend to be more esoteric, such as that of Maximortal.
Today might give us a different version. Because we have a very graphic on-panel rape of the book's lead male character, Mark Grayson,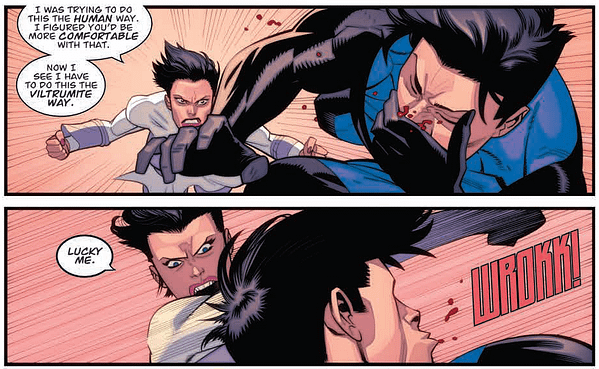 by a female character, towards the end of the book.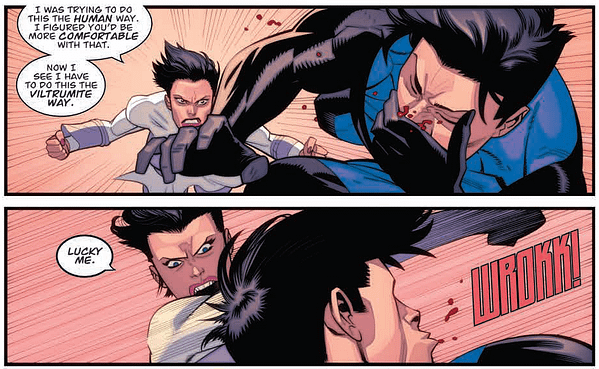 The event is treated with brutality and violence. Not about a desire to have sex, per se, but as a power trip. A means to an end. And male resistance swept away – as if this is what he really wants.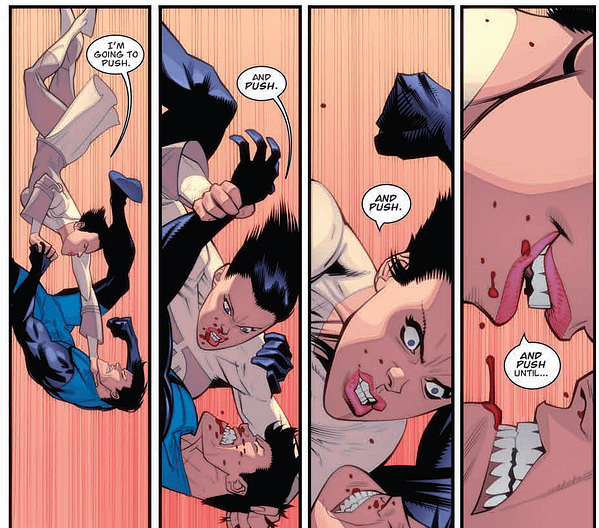 It is clear that what are usually male justifications or rationales for rape are being presented from the female character. The comic asks questions what we as an audience finds acceptable and what we don't.
There's no vagueness here. No ambiguity.  No attempt to bring in any doubt, or for the reader not to be aware of what is happening. This is rape, pure and simple, violent rape as well. From one person who wants something, from someone who does not want to give it under any circumstance and expresses their vehement wishes against it. But, and this is something that will give pause. There will be those in the audience who believe that no, actually, Invincible really does want this, he's just trying to find excuses not to. Which is often the same excuses given to male-on-female rape. There's even a dismissive reference to his gender to conclude.
But there is a difference. It is worth pointing out that the graphicness of what we have seen would be unacceptable in a similar comic if the genders were reversed, even if the act has been portrayed many more times.
And for some this will be seen as a way of the creators having their cake and eating it. Finding a more acceptable way to portray rape on the page, while still not actually feeling any different about it.
As always, I'd be interested in your thoughts. I'm guessing lots of people are going to have plenty of them. But never has the title of this comic been less applicable…
Invincible #110 is published today from Image Comics. Comics courtesy of Orbital Comics, London.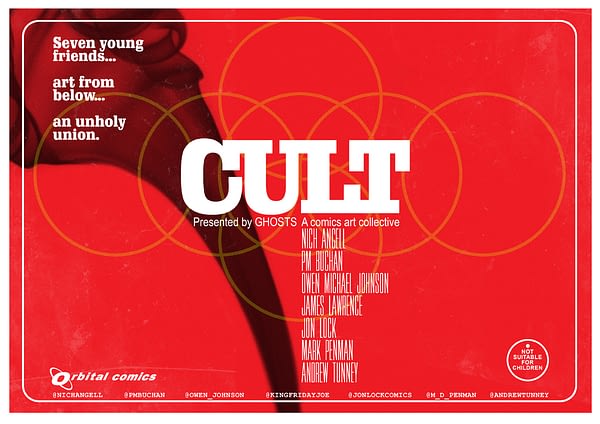 About to host an underground event hosted by a collection of the UK's most promising emerging comic creators: Owen Michael Johnson, P M Buchan, Mark Penman, Jon Lock, Nich Angell, Andrew Tunney and James Lawrence.
CULT will consist of a group art exhibition from the 14th to the 20th of April, including exclusive comic launches, boutique merchandise and signings. The artists will be in-store Saturday 19th April 2pm-5pm to sign their event exclusives, discuss their work, and unveil special items.
Enjoyed this article? Share it!