Marvel have released an entertaining list of quotes to back up Inhuman #1. But how representative of the original reviews are they?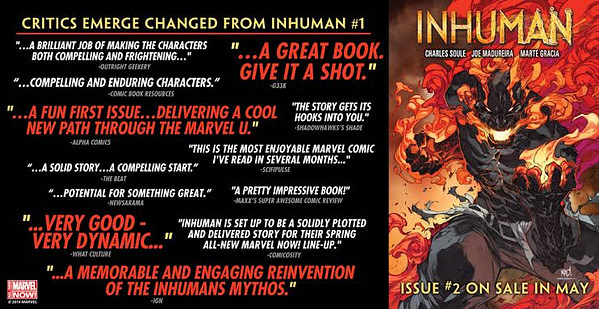 Some are, but some… well, that's how review quotes work!
Outright Geekery "Writer Charles Soule does A BRILLIANT JOB OF MAKING THE CHARACTERS BOTH COMPELLING AND FRIGHTENING, but does so without forcing matters at all." (4 out of 5)
G33k "It even has the potential to be a GREAT BOOK. GIVE IT A SHOT." (4 out of 5)
CBR "Unfortunately, "Inhuman" #1 doesn't live up to the hype that surrounded its release with its jumbled timeline and poor artwork. However, Soule leaves plenty of room for potential with COMPELLING AND ENDURING CHARACTERS." (3 out of 5)
Alpha Comics "Inhuman is A FUN FIRST ISSUE that continues on from the fallout of Black Bolt's actions in the pages of Infinity, DELIVERING A COOL NEW PATH THROUGH THE MARVEL U."
Shadowhawk's Shade "There isn't any hook to bring a reader back for a second issue, but as with any event comic, once THE STORY GETS ITS HOOKS INTO YOU, you are going to come back eventually. " (7,5 out of 10)
Scifipulse "THIS IS THE MOST ENJOYABLE MARVEL COMIC I'VE READ IN SEVERAL MONTHS." (Overall Grade A-)
The Beat "Overall, Inhuman #1 is A SOLID STORY, despite the various disparate pieces that the creative team have had to reassemble here. This had every chance to be a complete disaster – but it's a perfectly fine, decent superhero comic. It can't stand up to the other #1 launches Marvel have had recently (Moon Knight, Captain Marvel, Ghost Rider and Soule's own She-Hulk all far outstrip this issue for creative content), but Marvel have managed to at least give us A COMPELLING START to a story."
This review was later updated: "Inhuman #1 is a dull, generic comic, and it's a surprise that Charles Soule – whose work has almost without exception impressed me thus far – has misfired quite so badly. He's not helped by the unappealing artwork, though, and you get the feeling that if he and Gracia were given something with more vitality to work with than Madureira's uninspired monoliths, the pair of them could perhaps improve the comic a little with future issues.
For the time being – I absolutely cannot recommend this comic. It's boring, uninspired, and simplistic. Considering this was meant to be Marvel's next big franchise, Inhuman stumbles immediately – and doesn't get back up."
Newsarama "The POTENTIAL FOR SOMETHING GREAT is there, but don't expect to be blown away by Inhuman #1." (5 out of 10)
Maxx's Super Awesome Comic Review "The managed to put together A PRETTY IMPRESSIVE BOOK all things considered"
What Culture "Joe Madureira's art is also VERY GOOD – VERY DYNAMIC panels with suitably dramatic figures and vivid colours from Marte Gracia. "
Comicosity "Despite a fourth quarter change in the line-up, INHUMAN IS SET UP TO BE A SOLIDLY PLOTTED AND DELIVERED STORY FOR THEIR SPRING ALL-NEW MARVEL NOW! LINE-UP." (8 out of 10)
IGN "Is there any hope of Inhuman #1 actually living up to the hype and meeting all expectations? Not really, no. There's potential in this new series for A MEMORABLE AND ENGAGING REINVENTION OF THE INHUMANS MYTHOS, but issue #1 is too slow-moving and limited in scope to really capitalize on that potential." (6.3 out of 10)