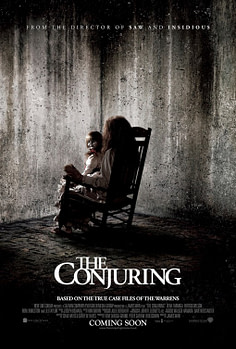 Warner Bros. are currently in production on Annabelle, a creepy doll spin-off to The Conjuring and, all being well, they intend to follow through with a straight-up Conjuring 2 for release around Hallowe'en 2013. In many ways, they're really on to a winner here, lining up appealing, consciously budgeted films that can build on the enormous box office success of the first film.
But it won't be entirely easy. According to Variety, the studio was cited in a lawsuit filed last Friday. The plaintiffs, Evergreen Media, allege that they own the rights to make films based upon the life and casebook of Ed and Lorraine Warren, the real-life ghost-botherers. Well, in so much as one can bother non-existent things like ghosts in real life.
Complicating matters just a little is a pre-existing suit in which Warner Bros. took Evergreen to task over ownership rights to a Conjuring TV series. That case is said to be in arbitration now.
Worst case scenario for Warner Bros., I'm sure, is a big fat out of court settlement. The Warrens are going to be a cash cow for the studio for some time to come – I wonder how that sentence would read to the Lorraine Warren if she wandered past this story?
Anyway, the real burning question about The Conjuring 2, I think, isn't when it will go into production or where the profits will go but who will direct the thing. It seems rather unlikely to be James Wan, which is a bit of a shame. The first one is his best film to date, I think.