Noah Dorsey writes for Bleeding Cool: The premise of Saint Chaos isn't a rosy one: a suicidal man who doesn't believe he has the strength to kill himself asks a cannibalistic psycho to do the deed.  In fact, before I started writing the comic and told a few friends and family about the storyline, I was met with concerned expressions that shouted an extreme desire to direct me to the closest psychiatric ward.  That didn't deter me from writing it however, and the final product is something that I couldn't be more proud of.  And, despite its controversial content, it is quite a personal tale.
No, I was never suicidal.  Nor have I ever had an insane flamboyant cannibal named Honeycomb give me four days until my 'Death Day'.  But the themes and the places where these characters lurk are very familiar.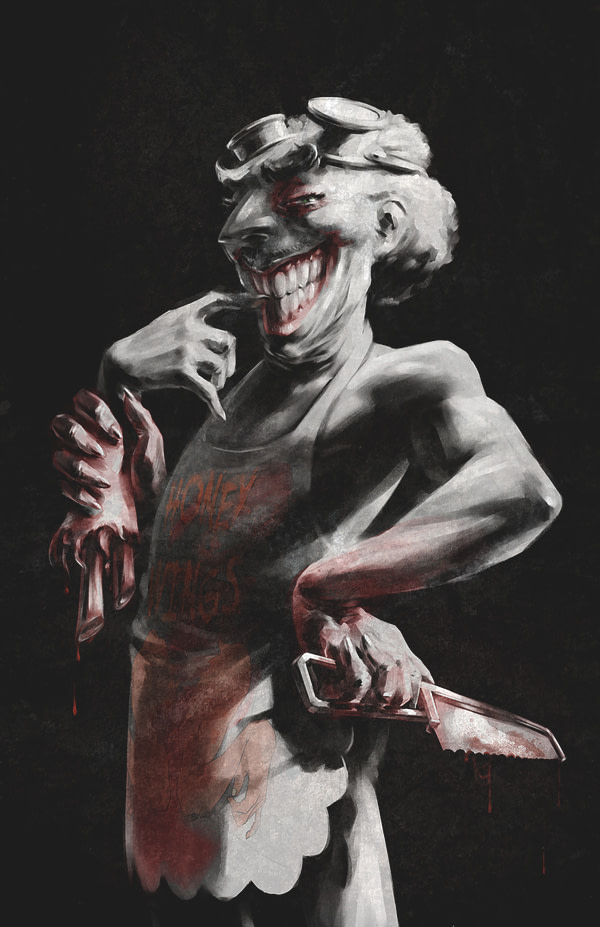 It's true. It's quite hypocritical to write 'strength' and 'suicide' in the same sentence.  In the face of absolutely dire circumstances, does it take more strength to weather the turmoil or to pull the trigger?  Personally, I believe the former.  The protagonist of my story (a Mr. Simon Monroe) thinks it is the latter.  And it is that obscure mode of thinking that puts him in a predicament and makes him the main course for a guy whose favorite dish is human flesh.
This is where things get ironic.  The strength that Simon was so certain he didn't have to kill himself has manifested in another form.  Now that he has a Death Day, and his fate undeniable, he decides that he'll unleash hell on the world that he considers so cruel.  He'll punish the wicked and help those that feel as helpless as he does.  If he dies in the process, who cares?  Honeycomb is going to do that in four days anyway.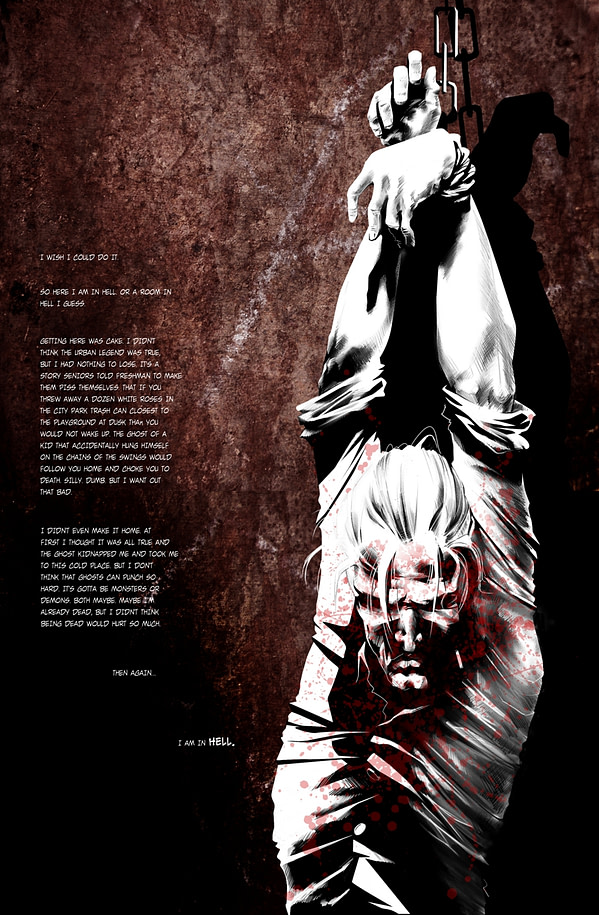 In the midst of Simon's brutal vigilantism he uncovers a new lease on life.  A reason to live.  It is not the violence that he finds a disturbing fondness for, or the joy of making horrible people suffer, but the possibility that he can uncover the answer to a mystery that has plagued him and one of the primary reasons for wanting to check out of this plane of existence.
The reason I wanted to write about a character like Simon is because I don't understand the concept of suicide, but I know some people that do.  I've had conversations with those who have considered it a valid solution to seemingly unsolvable situations.  And while I've always struggled to grasp what these people were trying to tell me, I was intrigued.  I created Simon so that I could explore with the idea further.  What if a person had already made the decision to commit suicide, but when they have found a new value for life, it is too late?  Will they find that strength that they didn't think they had to fight to save their life?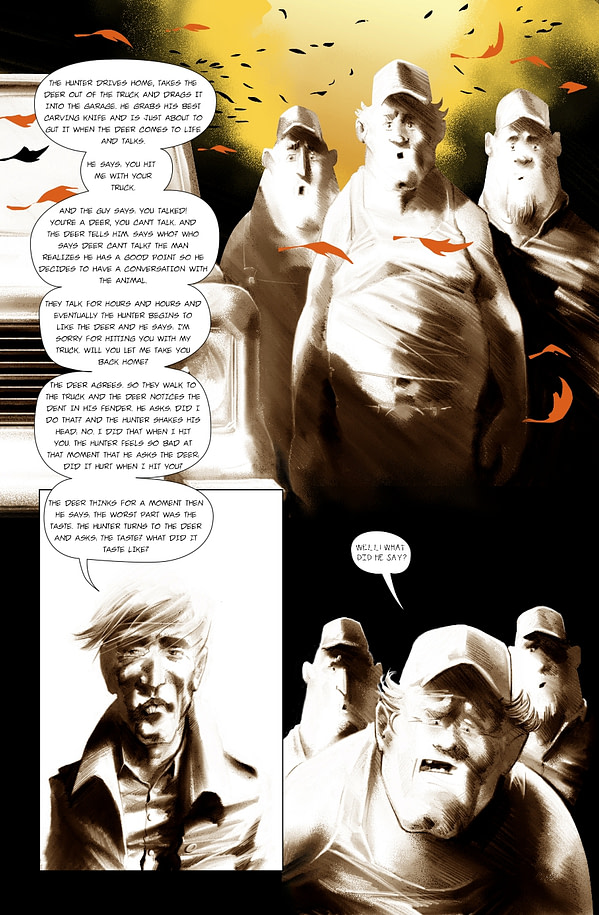 On a happier note, I've also thrown in an aspect of my childhood into the story.  Here in Denver there is a company that has been included in the city's history since the early 1900s called Hammond's Candies.  The handmade candy confectionery was started by my grandfather and was the place my father learned how to make sweets the old fashioned way.
The operation was small and, since my father was the only one trained to make the handmade candy after the death of my grandfather, the oldest son was recruited to help out.  That was me.  At a fairly young age I found myself toiling away in the factory after school and on weekends.  And let me tell you, candy making ain't no Willa Wonka and the Chocolate Factory.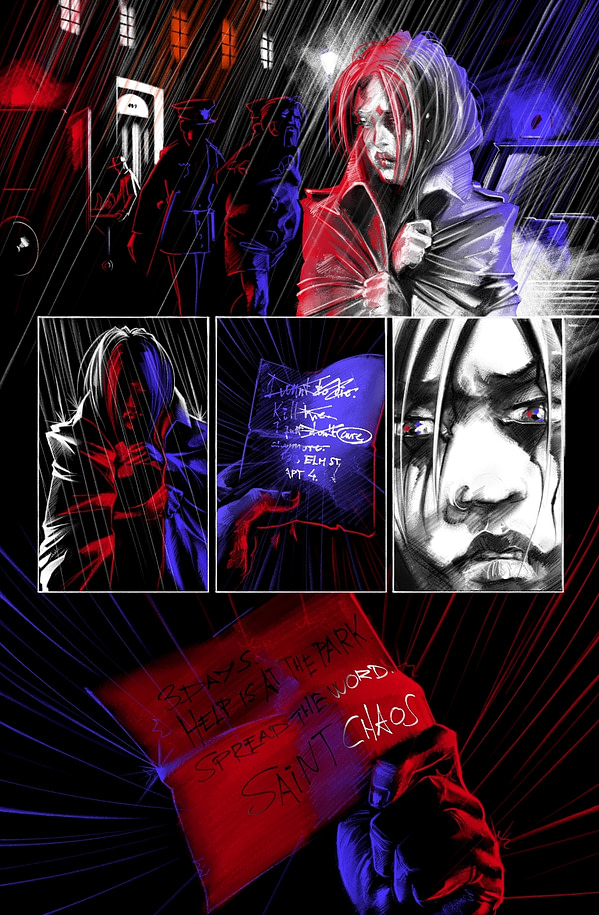 Handmade candy machines are not constructed for safety, they are made to create amazing and beautiful works of confectionary art.  The risk of puncturing the skin, burning oneself severely, or even losing an appendage from one of these machines is surprisingly high.  Hell, there was even one incident where I burned all of the skin off of my pointer finger after accidently dipping it in scalding hot caramel.  My father has even more horrific stories to tell and has the scars to prove it.  So, when I was thinking for where to place Honeycomb's terrifying liar I thought – well, a candy factory can be a pretty scary place.  It's perfect. 
When you get a look you'll find that every piece of equipment that Honeycomb uses as a torture device is also used to make candy.  A little fun fact.
If Bleeding Cool readers pledge at least $20 for the hardbound copy of Saint Chaos Vol. One by Monday, March 24, and email saintchaoscomic@gmail.com with BLEEDS COOL in the subject line, will receive a free digital copy of the book.
Please show your support: https://www.kickstarter.com/projects/1049359989/saint-chaos-vol-one