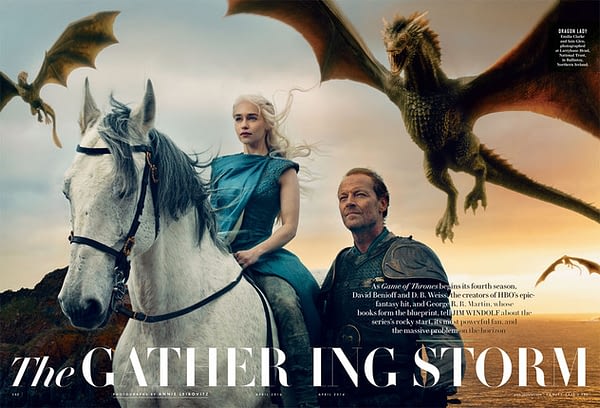 According to George RR Martin, speaking to The Hollywood Reporter on the occasion of Game of Thrones season 4 gala premiere, there have been real and meaningful discussions about taking the series to the big screen.
One prospect, he says, is to make movies centred on the Dunk and Egg prequel stories. These novellas are set 90 years before the start of the Thrones novels and therefore don't intersect directly with the narrative of the TV show, even while characters are related and locations can be the same.
Another is to finish off the TV show with a lavish, expensive two hour movie. This somehow sounds a lot less likely.
It all depends on how long the main series runs. Do we run for seven years? Do we run for eight? Do we run for 10? The books get bigger and bigger. It might need a feature to tie things up, something with a feature budget, like $100 million for two hours. Those dragons get real big, you know.
We'll see about that.
Martin spoke to Vanity Fair a few days back about his hopes to keep the novels ahead of their TV incarnation:
The season that's about to debut covers the second half of the third book. The third book was so long that it had to be split into two. But there are two more books beyond that, A Feast for Crowsand A Dance with Dragons.

A Dance with Dragons is itself a book that's as big as A Storm of Swords. So there's potentially three more seasons there, between Feast and Dance, if they split into two the way they did.

Now, Feast and Dance take place simultaneously. So you can't do Feast and then Dance the way I did. You can combine them and do it chronologically. And it's my hope that they'll do it that way and then, long before they catch up with me, I'll have published The Winds of Winter, which'll give me another couple years. It might be tight on the last book, A Dream of Spring, as they juggernaut forward.
And what about the rapidly ageing cast? Just roll with it, I suppose. Pretend that puberty hasn't redesigned the little ones and that the older ones haven't each lost an inch in height while putting one on around the middle. I can play along with that, sure. But will audiences at large?
Enjoyed this article? Share it!