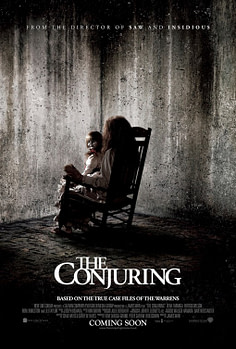 James Wan delivered a career best slice of slightly silly spookiness (as opposed to the usual horrendously silly) with last year's The Conjuring. What's more, he also drew in whole heaps of cash for New Line.
And so it's no surprise that sequels and spin-offs are on the studio's Want List. They're already pressing ahead with Annabelle, a movie based on the haunted doll prop from the first film.
But for an actual Conjuring 2, it seems like they're taking it steady.
Vera Farmiga has been speaking to Aint It Cool about a whole array of her recent and upcoming projects. Here's the business about a Conjuring sequel:
I'm hoping to see CONJURING 2 sooner than later…

There are so many more stories to tell, and obviously it was a vital thing for New Line, and it seems implausible to not go for number 2 and even number 3. But, I don't know anything concrete just yet. I think it's being figured out right now. Because of course, we'd love to have James Wan at the helm, and he's experienced a certain measure of…stress recently.
Unfortunately he has.
When, or indeed if, Wan finds time to return to The Conjuring it's not a given that he'll direct. He may just co-wrote, or just closely produce.
In any case, Farmiga is correct – it is implausible, literally implausible, that New Line won't go ahead with a sequel sooner or later.
Just like Blumhouse did with Insidious 2, of course. Shame about that, really.