Dynamite Entertainment made three big announcements today.
First is the release of the new Battlestar Galactica: Six series written by J.T. Krul (Justice League, Fathom), interior art by Igor Vitorino, and covers by Jenny Frison and Chris Bolson.  A photo cover featuring actress Tricia Helfer will also be available.
Battlestar Galactica: Six takes place in the days before the last great Cylon War. Locked away in a psychiatric ward on the planet Leonis, a woman known only as Eve is haunted by memories of worlds she's never seen, hazy images of a past full of anguish and death.  One vision in particular calls to her through the pain, like a distant song echoing in her mind.  It is calling her home.  Is Eve crazy… or something much more?  In developing the next generation of Cylons, getting the models to look human was the easy part… but acting human is another story.  Longtime fans will witness the evolution of Number Six as she learns to live, to love, and to hate.
The five issue miniseries kicks off in April.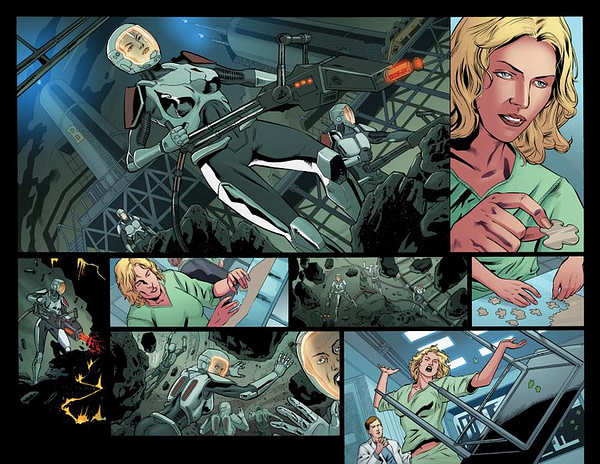 Next up we have The Shadow being dropped into the world of H.P. Lovecraft for a new one-shot in The Shadow Over Innsmouth is written by Ron Marz (Green Lantern) and artist Matthew Dow Smith.
In The Shadow Over Innsmouth, the fog-shrouded town of Innsmouth holds deep secrets. There are legends of inhuman creatures raised from the depths, of supernatural rites and elder gods from beyond. When Lamont Cranston and Margo Lane find themselves trapped in Innsmouth, terrible truths will surface… truths only the Shadow can know.
The Shadow Over Innsmouth will hit comic shops April 9th. And finally, if you are looking for action here you get a double dose as Art Baltazar and Franco have Captain Action Cat meet Action Cat and the characters from Aw Yeah Comics! Also crossing over with Dark Horse Comics characters such as Ghost, X, Captain Midnight, and The Occultist.
In Captain Action Cat: The Timestream CATastrophe #1, there is something evil out there and Evil Cat is determined to find it… even if it means searching throughout the Silver Age to do it! Could this blip on the screen be the one known as Doctor Evil Cat? What will happen when the Silver Age and the "Aw Yeah Age" collide! What does this mean to the timestream?  The fate of the comic world may change forever!  Plus, a mysterious frozen souvenir from the Golden Age makes a visit! For the first time ever, The Timestream CATastrophe introduces Captain Action Cat, an anthropomorphic action hero based on the classic action figure / adventure toy, Captain Action!
This crossover event will hit stores April 16th.