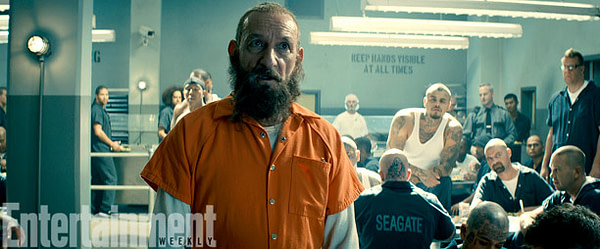 Marvel Studios have unveiled the truth about the upcoming One Shot short film All Hail The King to Entertainment Weekly. As I predicted, it's an Iron Man 3 spin-off starring Ben Kingsley. Also as expected, it was scripted by Drew Pearce, co-writer of the original film and this time, he's directed too.
EW's description of the film's premise contains a major, major spoiler for Iron Man 3. Like huge. So, if you're the one who hasn't seen the film yet… well, click away now, go get a hold of Iron Man 3 and then pick up the Thor: The Dark World Blu-ray in February.
Ben Kingsley's dim-witted Mandarin impersonator from Iron Man 3, who has been locked away in a maximum security prison and is reveling in his newfound infamy. (It's as close to fame as he's ever gotten.)
Better still is Pearce's spin on what the film is about. This sounds superb:
Imagine a real terrorist organization whose beliefs were long held and religious for thousands of years, and imagine a drunk, British actor coming along and essentially telling the world that he's the face of your organization. I think they would be right to be quite angry.
Will the film reveal the existence of another, "real" Mandarin? Oh, I wouldn't bank on it. But I do think we can expect the film to be sharp and funny. It's already brilliantly surprising.
Can't wait to see the whole thing.