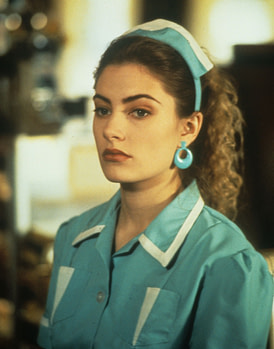 Sorry people of colour, blondes, fellas, the non-attractive (whatever that means), ladies with smaller bosoms, those under 18 or over 27, or anybody with an… um… modern face but David Lynch is looking for a waitress and he's got a very specific type in mind.
Production is set to take place next Tuesday on a new Twin Peaks promo, directed by Lynch. Here's the casting call I intercepted:
Hot Caucasian Girl – Brunette or Redheads Only. To play waitress, 18-27. Must have an amazing body, busty, very period looking face.
If you want to submit they want a full body shot as well as a head shot, of course.
Though it's yet to be confirmed, I've heard that the Blu-ray release of Twin Peaks will include the entire series, the prequel movie, a great deal of deleted scenes material – up to 45 minutes have been mentioned, but it's in the hands of both lawyers and remastering boffins – and it will all hit the street in late March.
Incidentally, if the set lands on March 25th in the US, as I'm expecting, that's exactly 25 years after Dale Cooper met Laura Palmer in the Black Lodge.
Stay tuned for a lot more. Twin Peaks is just… it's just… wow. So I'll be all over news of this release, and the waitress promo while I'm at ait.
Enjoyed this article? Share it!