Greetings, Bleeding Coolers. Hannah Means-Shannon here. Firstly, let me explain that in the absence of any obvious thematic images to use for this post, I've elected to use some panels from Journey into Mystery. Just because.
I've been writing for the site for a while, so it's not like this is a first meeting. I've written up a vasty amount of con coverage, particularly, and hopefully folks have enjoyed that. I've also been known to break out my opinions from time to time, particularly about indie comics, the creator-owned movement in the mainstream, and the like.
Obviously, I love the medium and have pretty eclectic tastes; usually I'm looking for a certain ring of quality and passion in a given comic that catches my attention and that will compel me to read it regardless of genre or publisher. I read superhero comics. I read science fiction comics. I read crime fiction, autobiography, and art comics. I read about a third of my comics in single print issues, about a third in trades, and about a third digitally, and those are usually digital collections.
I think that comics are growing at an explosive rate right now, particularly in terms of diversity in genre, style, and content, and that's an awe-inspiring thing. Just keeping up with all the developments can be overwhelming, and that's why we have and need comics news sites like Bleeding Cool. In fact, before I was a writer at Bleeding Cool, I was a reader and a fan, too, because I was looking for ways to get more perspective on comics and develop my own thoughts and opinions more fully in response.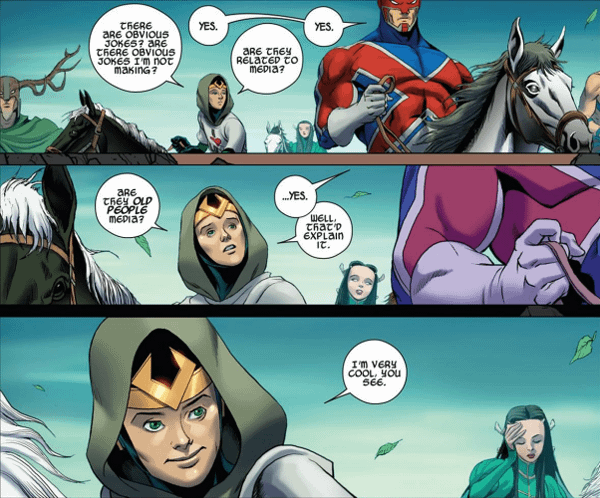 But Bleeding Cool is also a film site, and more widely, a pop culture site. I don't currently write about film or TV very often, but I'll admit I'm a rabid consumer. In fact, I started off as a film scholar before I became a comics scholar, and later a comics journalist. I think that film/TV and comics naturally stand side by side as pillars of popular culture, often inform each other, and the ways in which we've learned to write and talk about film can help us develop ways to talk about other areas of pop culture.
Film and comics are both community-building and naturally inspire conversation among enthusiasts, and blogging and journalism are at the heart of our modern experience of fandom. And, of course, film and comics are both industries, and the ways in which those industries function and change affect us pretty profoundly, so keeping up with the evolving machinery that brings us our visual culture is a very significant part of the mission of Bleeding Cool.
There were at least a few tweets and comments after the announcement of the EIC position this week asking what the EIC role is really intended for here at BC and what I'll be getting up to in the coming months. So, rather than leave people wondering too much, I can give you a few ideas of what I'll be doing, and what we'll be doing as a team here at Bleeding Cool.
Why does Bleeding Cool need an Editor-in-Chief? Because for the better part of five years, Rich Johnston and Brendon Connelly have been providing the vast majority of the content the site is known for while masterfully juggling the exponential growth that the site has achieved. Growth has meant a greater demand for solid, intriguing content, but also that Bleeding Cool has attracted more contributors. Our teams covering comic conventions have increased significantly, and our contributors providing reviews, interviews, and columns have become sizable in number.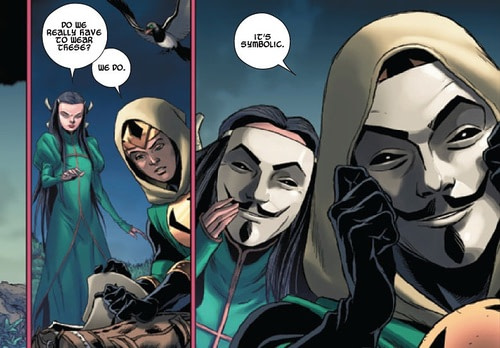 Rich and Brendon have boldly continued to do their own writing and research while handling an increasing body of content from contributors, but in the end, it's much more of a tribute to their virtuosity as writers and thinkers to free up their time to do what they initially set out to do: shape the way we think about their respective mediums. So, the major duties of an Editor-in-Chief at Bleeding Cool are coordinating contributing writers and their work, tasking teams handling convention coverage, and developing new areas of interest on the site.
In that vein, some of what you can expect to see developing in 2014 is a wider range of contributors and columnists bringing their unique voices and perspectives to Bleeding Cool, increased content on the site to provide for the globe-spanning time-zones in which we operate, greater coverage of events from large to mid-sized cons and smaller shows, and some cultivation of gaming, collectibles, and other pop-culture areas as topics on the site. There may also be some interesting developments in terms of reader-engagement, so stay tuned. Bleeding Cool has become a big ship with a fairly large crew because you, the readers, have continued to bring your energy and attention to the site. In response to that, we are stepping things up and providing more of what you want to see and read about making the site more and more a place where there's something for everyone. You will be helping to shape those decisions through your support and interest, but actually that's nothing new. That's how Bleeding Cool has become what it is today—a major site for fans on a global scale. I couldn't be happier about helping us all achieve these goals as EIC.