To my mind, Stanley Donen and Elaine May are amongst the most wonderful people in the world. Why? Singin' in the Rain and The Heartbreak Kid, that's why. And On the Town and Mikey and Nicky. And Charade and the Nichols and May skits.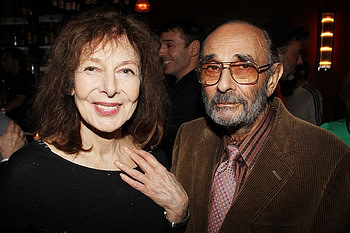 These guys, these wonderful artists, have given me so many hours of pleasure in my life.
And… somehow, with Donen now pushing 90 and May 81, they're working on a film together. They've been a couple for almost a decade and a half now, so there were plenty of opportunities for a spark to light this fire. I'm glad it caught.
According to Showbiz 411, with thanks to The Dissolve for the heads up, Donen held a read-through of the script for some investors and in the cast were Christopher Walken, Charles Grodin and May's daughter and Heartbeak Kid star, Jeannie Berlin.
The only thing known about the film is that it will be about the making of a film. I'm thinking of something like Noises Off, but it could be rather different, I'm sure. Doesn't matter so much, right now. At the minute, it's all about the Donen-May team-up factor.
I want to see this film. Put it on Kickstarter and I'll drain my bank account. I'm not joking.
Now I'm off for a bit of a lie-down. Too much excitement.