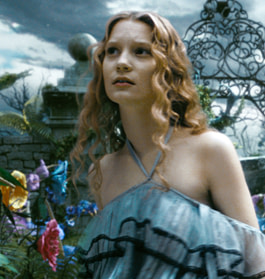 Disney announced today that a sequel to 2010's Alice in Wonderland is finally happening. It also announced that stars Mia Wasikowska and Johnny Depp will be returning to the roles of Alice and the Mad Hatter, respectively, and that the sequel will have a May 27th, 2016 release date.
Here's something they didn't announce, but we know to be true: Wasikowska's Alice and Depp's Hatter may not be the only versions of those characters to show up in the movie. Word is Disney and new director James Bobin are looking to cast younger versions of both characters.
While the Tim Burton-directed first film was a sequel of sorts to the original Lewis Caroll novel, with a grown up Alice popping down the rabbit hole all the while getting the distinct feeling of deja vu, the new film will indeed take us back to the beginning when we learn that Alice has in fact visited Wonderland before as a younger child.
It's not clear at this point if the older and younger versions of the characters will cross paths, or how exactly their stories will be intertwined, because Wasikowska and Depp will still have plenty of screentime beyond just showing up to set up a flashback. Curiouser and curiouser!