In 2010-2011, the indie comics, prose, and illustration project Panels for Primates appeared on the creator-owned webcomics platform ActivateComix, with a goal in mind to support animal charity work focused on the Primate Rescue Center in Nicholasville, Kentucky. Now, two anthologies of the digital project edited by Troy Wilson have been collected for sale on ComiXology via Monkeybrain starting November 25th (the second is an all-ages collection, both are available for pre-order now) and the cause can reach a wider audience.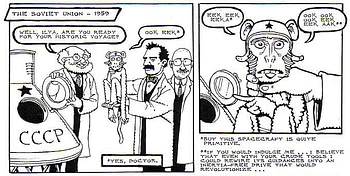 Not only that, but contributing writers and artists are a remarkable line-up of talent on the primate theme. It's a unique project with a meaningful outcome, so it's a no-brainer to check out. It's a reassuring thing that comics continue to address animal rights and charitable animal rescue work, and putting Panels for Primates back in the public eye will hopefully inspire even more projects supporting a worthy cause like this.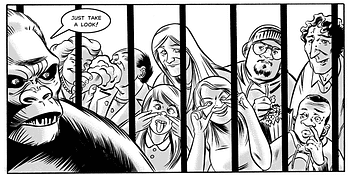 But looking at the list of contributors also serves as a kind of roll-call for those who have used their craft to support a great cause, so let's give them some respect for that too.
Writers include:
Tara Abbamondi , Toren Atkinson , Jeffrey Burandt , Mike Carey , Kevin Church , Jamie Delano , Gareth Gaudin , Faith Hicks , Paul Kupperberg , Stan Lee , Michael May , Jason McNamara , Stuart Moore , David Petersen , Douglas Rushkoff , Mark Shainblum , Roger Stern , Rich Tommaso , Ben Towle Colin Upton , Fred Van Lente , James Vining
Artists include:
Tara Abbamondi , Toren Atkinson , John Byrne , Richard Case , Colleen Coover , Molly Crabapple , Adam Domville , Rahsan Ekedal , Aaron Florian , Simon Fraser , Gareth Gaudin , Rick Geary , Dean Haspiel , Faith Hicks , Caleb Hystad , Gideon Kendall , Jeff Lemire , Carla McNeil , David Petersen , Max Riffner , Simon Roy , Rich Tommaso , Ben Towle , Colin Upton , James Vining
And the letterers are:
Hannah Means-Shannon is Senior New York Correspondent at Bleeding Cool, writes and blogs about comics for TRIP CITY and Sequart.org, and is currently working on books about Neil Gaiman and Alan Moore for Sequart. She is @hannahmenzies on Twitter and hannahmenziesblog on WordPress. Find her bio here.