Michele Brittany writes for Bleeding Cool from Comikaze:
Where would the comic cons be if there were no cosplayers or very few? I've been to a few small comic book shows in the past and the level of energy and excitement seemed to be absent. Cosplayers bring a sense of playfulness and magic to the cons. And Comikaze was no exception and in fact, I would say, the media characters represented ran the gamut – super heroes, rock stars, anime characters, villains, fairy tale stories, video game protagonists – giving a nod to just about every kind of media form and character type.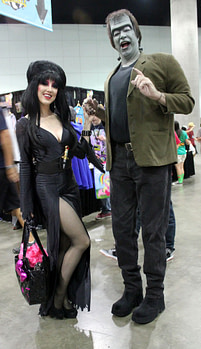 Now, a lot of the teenage girls came as Fionna from Adventure Time, while the teenage/young adult boys came as Doctor Who or Sherlock Holmes, however, there were many more who dived in and went big! The width and height of a costume was not a barrier for the likes of Doctor Octopus and his mechanical tentacles curling out from his back, or Daenerys, from Game of Thrones, who was out for a stroll with one of her dragons.
Mel Hoppe, who was Delta Red Style Cammi from Street Fighter, said that with each passing year, cosplayer are "always upping your game" for elaborate costumes. As a professional cosplayer for the past nine years, Hoppe stated when she started, vendors for costumes, wigs and accessories were difficult to find, but now there were so many resources and choices at hand.
With more resources, cosplayers were not limited necessarily by their sewing ability, but only their imagination.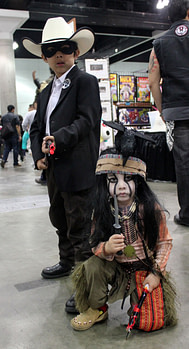 The Skill Kid with Majora's Mask was extraordinary well executed from a video game, and two young children as the Lone Ranger and Tonto were so stoic that they were incredibly adorable, even if the Ranger kept "shooting" me as I took their photograph.
Inspiration from the golden era of television, Viking mythology (you know, that guy with the big hammer?), comic books such as the immensely popular Saga, or fairy tales. Or my personal favorite because of Karl Urban's Dredd, was the man himself – Judge Dredd!
However, once in awhile there's someone who has a twisted sense of humor. Hearing some loud rap music at one point Saturday afternoon, I turned to see a red stormtrooper with the customary heavy gold chain and medallion that could have knocked someone out if he swung his body too quickly! Who needs a gun with a big boom box (red) and 30 lbs of gold around your neck?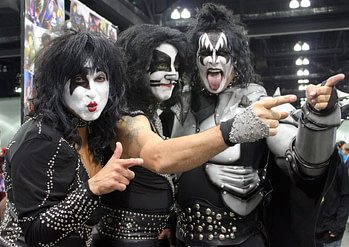 Of course, being in costume can be more fun with friends, such as the Power Rangers, KISS (minus one), Pinocchio, Servo with a Joel that really looked more like Kevin Murphy, and even the menacing Sauron from The Lord of the Rings, who had a Lady love by his side.
Cosplay really is fun for those of us that like to look at all the costumes, especially if we are waiting around in a long line for a sketch, but for some cosplayers, it may be more than vying for attention. Ann Sidenblad of Rawrz Toys, revealed witnessing the 'bathroom transformation' whereas a shy girl in street clothes would change in into her costume and "gain confidence from dressing up."
I respect and admire the cosplayer: they take a chance and put themselves out there to live in the shoes of an admired character for an afternoon or weekend. They really are an extension of the con experience. Without the cosplayer, it just wouldn't be a con, so thank you for dressing up!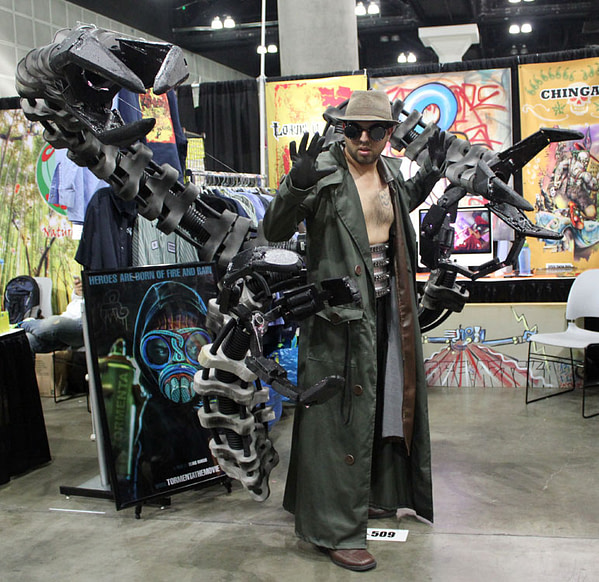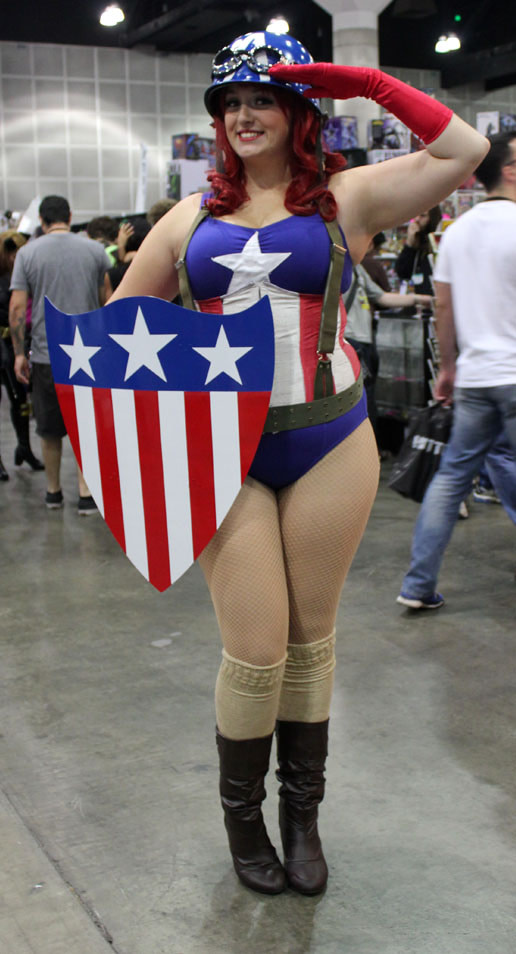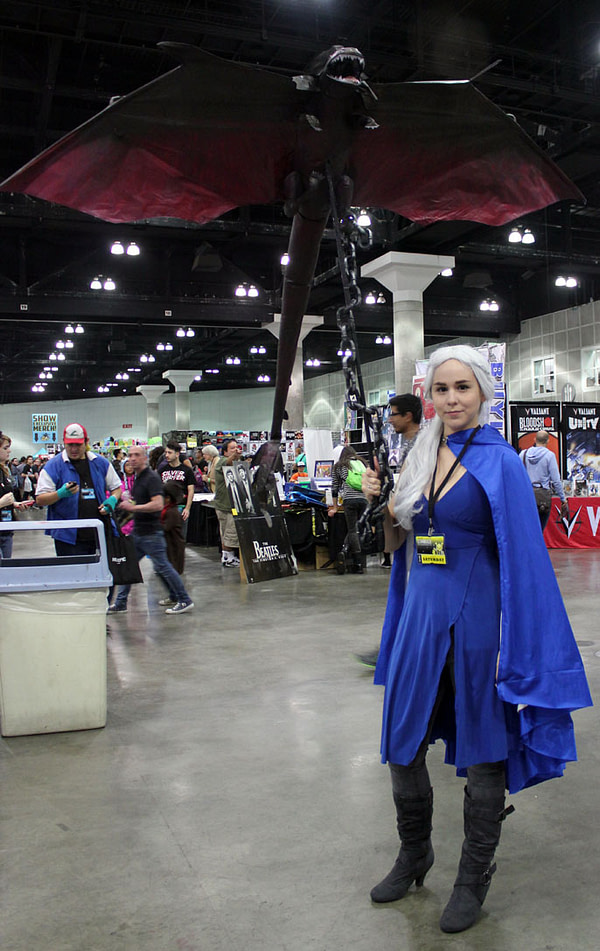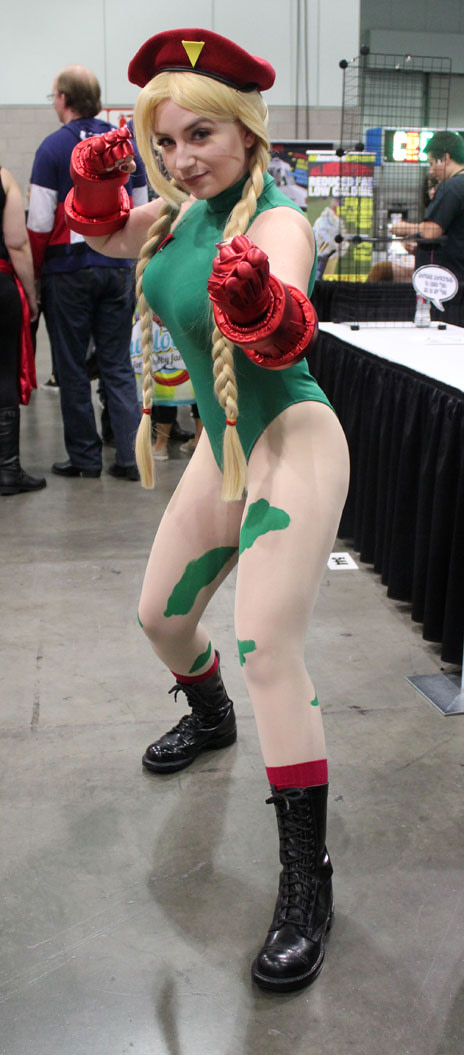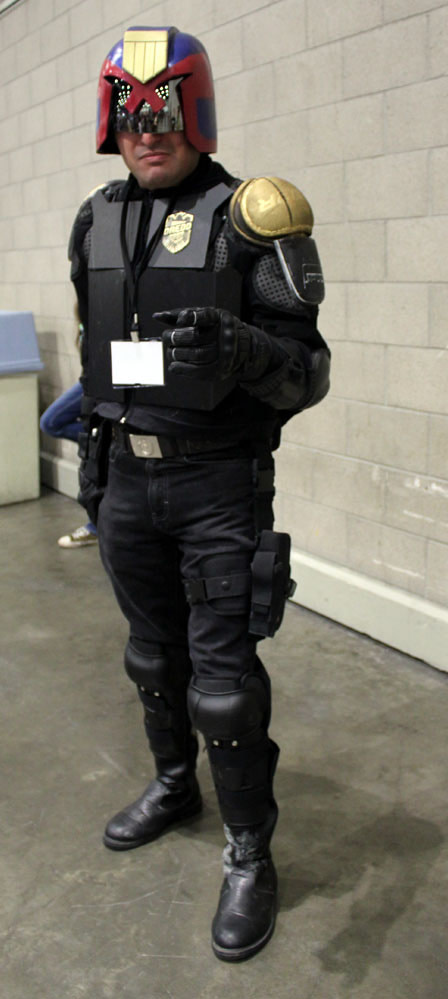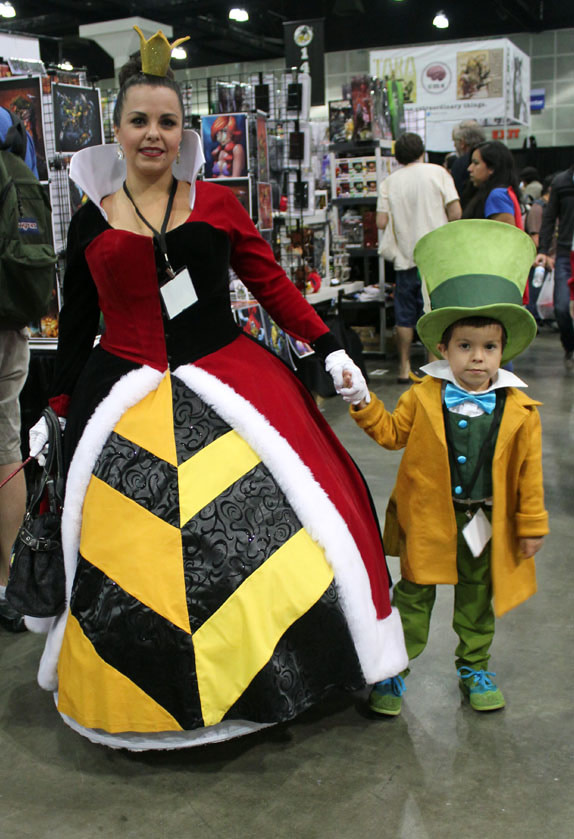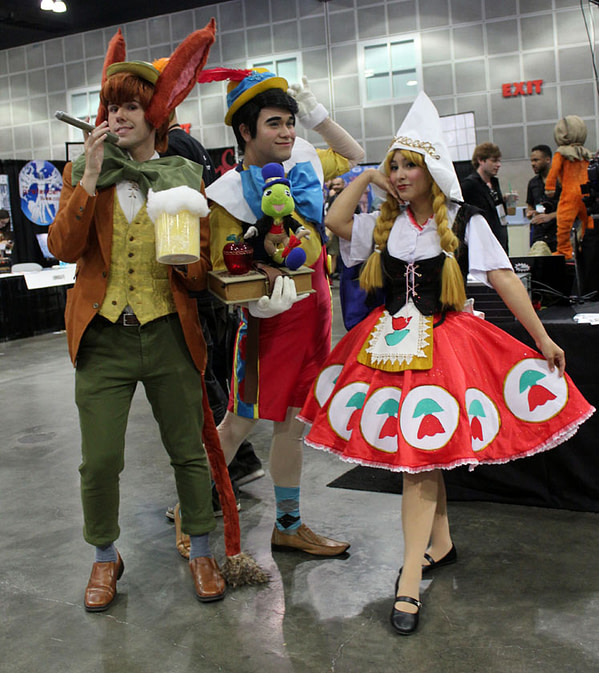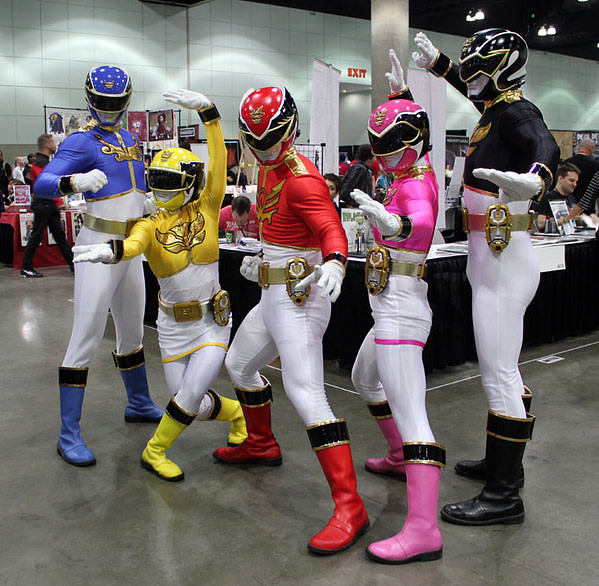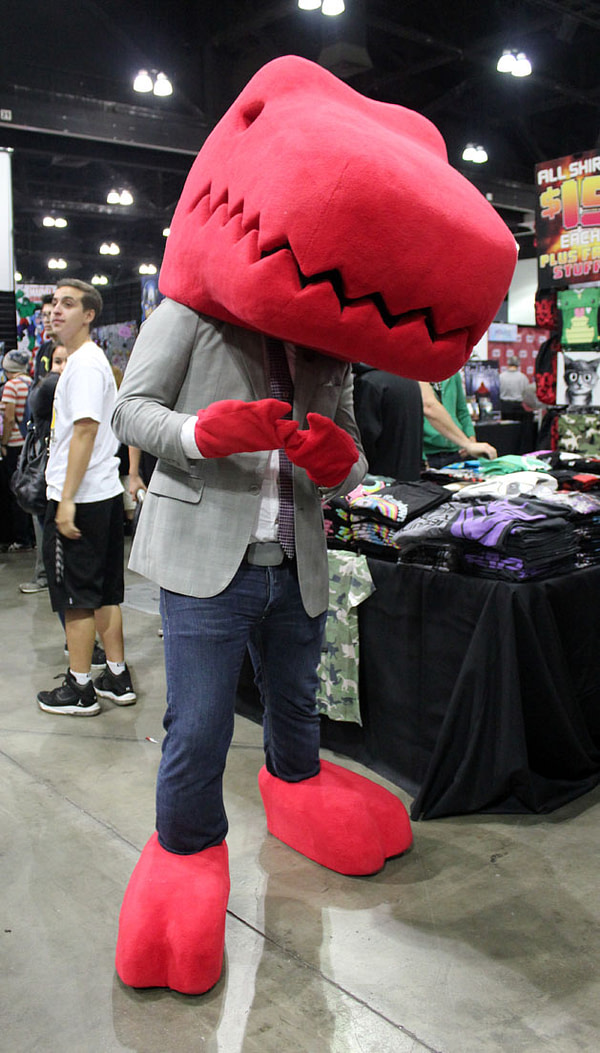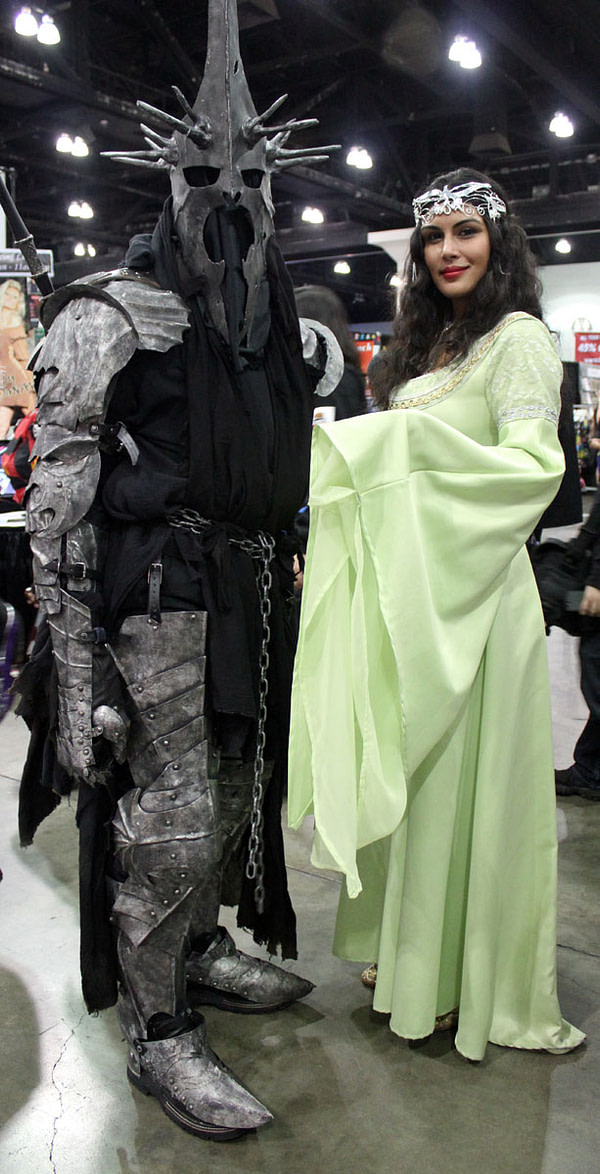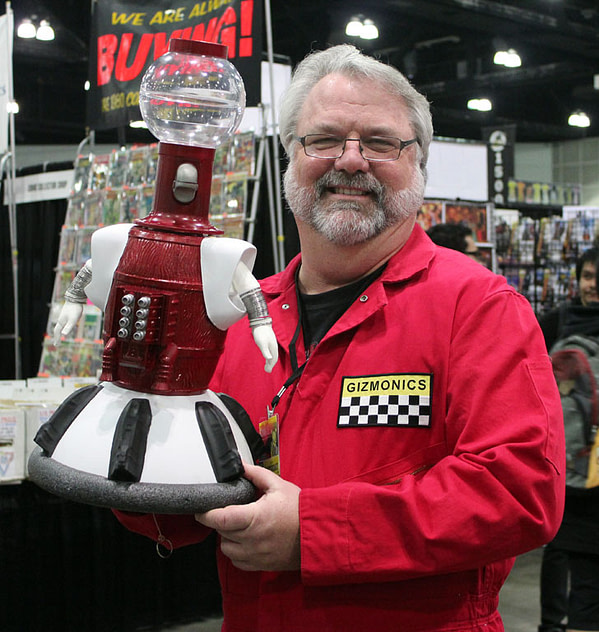 Michele Brittany is an independent pop culture scholar and semi-professional photographer currently editing an upcoming anthology on the influence of James Bond on popular culture. She regularly posts reviews and analysis on the spy/espionage genre on her blog, Spyfi & Superspies.