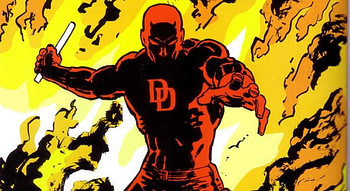 During my big sit-down with Marvel Studios' Kevin Feige, we talked for a while about ideas from comic books that they've yet to translate to cinema. They introduced that whole crossover deal – in a big, big way – and Coulson on TV is rocking the  "back from the dead" trope, but are there any more concepts from the page that he'd like to see on screen?
Well, here's that portion of our conversation. And you tell me who you think he's talking about.
KF: The one we haven't done in the MCU is the secret identity thing. I thought that had been overplayed for a long time which is why we had Tony Stark out himself at the end of his first movie. We were sort of announcing to the audience that we're not going to play that game.
BC: There must be a new spin on that, though?
KF: I think there is and I think we will get to it at some point. We have an idea. As a matter of fact, I was just talking about it the other day with one of our filmmakers. The fun thing about the  job, though, is that  idea I was talking about with a filmmaker might not happen for four or five years because it may or may not be appropriate for a first movie.
BC: How is that fun? That sounds like torture.
KF: It's fun because we've been doing it now for seven years and the things we talked about seven years ago we're doing now and so I have confidence at least we'll get to them.
Is that you, Matt Murdock?
You know, I have confidence in Feige too. He will get to these ideas. Eventually.
More from Feige and the rest of the Thor: The Dark World team tomorrow, ahead of the film rolling out in UK cinemas this Wednesday.
Which is very exciting, when you think about it.