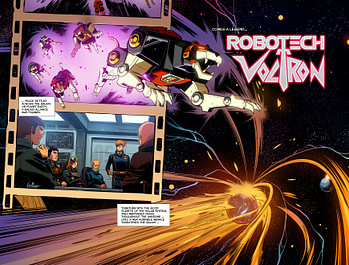 Tony Lee talks to Tommy Yune about writing Robotech/Voltron for Dynamite Entertainment.
Tommy, pretty much any Robotech fan out there knows who you are – you've been involved in the franchise for years, you've directed movies, produced games, designed characters… how up to date are you on Voltron though?
I actually first saw Voltron before I encountered Robotech back in 1985. I watched most of the series all the way through to the Fleet of Doom television special, and thanks to the folks at WEP (World Events Productions), had the opportunity to catch up on the original Japanese versions of the GoLion episodes.
How did the team up come up? Did you pitch it, or did Dynamite approach you?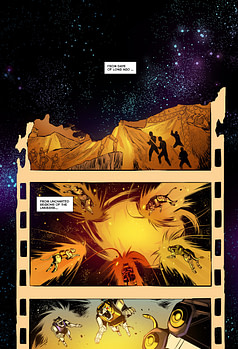 We had been pitched crossover ideas for Robotech before, but Voltron is the first we've ever done. I had known Nick Barrucci from Dynamite and Jeremy Corray from WEP (the licensors of Voltron) for years and so we came to a comfortable meeting of the minds after the concept was pitched to us.
Both Robotech and Voltron are generational, with old characters disappearing and new ones arriving. How hard was it to decide where to set each of the teams, storywise?
This was fairly easy decision. There was no question that lead characters from The Macross Saga and the Lion Force team would cast a wide nostalgic net for Robotech and Voltron fans. However, we're going to include a number of supporting characters from the respective universes to add some depth to the storyline.
As a fan of both series, what was the one thing from both that you desperately wanted to see in the book?
First contact. Now that's going to be interesting.
What can fans of both series look forward to seeing in this series?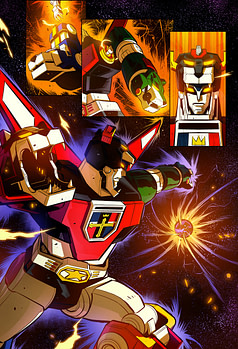 Mecha. Mullets. Mice. (though not necessarily in that order)
Comics are often defined, license wise as 'fan fiction' – as the creative director of the Robotech Franchise, is this series 'canon'?
'Canon' in crossovers is contingent on whether the situations defined in the crossover storyline will carry over into respective universes after the conclusion of the event. It's still yet to be seen how intertwined we'll let our universes get after this crossover, but I think we're going to come away from this project with some very interesting backstories built up for some of the characters that fans of both universes will enjoy.
Voltron and Robotech have always been (to me, anyway) two separate beasts – Mystical Lion powered giant robots vs super cool pilots seem a match made in… well, a madhouse. What's been the hardest part for you?
Reconciling different universes with contrasting storytelling approaches is a definitely challenge, but that provides us with an interesting opportunity to explore two 'fish-out-of-water' scenarios with characters discovering the rules of one another's worlds.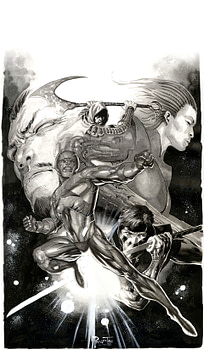 Putting your creative director role aside, you came into Voltron and Robotech at the same time. In your heart of hearts, which is your favourite?
Robotech's rich storytelling aside, its military-inspired production design overlaps with my fascination of real-life military technology, so that holds a special place in my heart. Comparing it to Voltron is like comparing apples and oranges, because when you exclude the robotic elements from each, you have one series which leans towards near-future speculative science-fiction and another which leans towards themes of fantasy and conflicts of royal succession. That said, working this closely with the Voltron universe on this project has renewed my respect for that franchise.
You've done the covers to the series, but the interior art is the work of Elmer Damaso. How have you two found working together? Was he a fan before he started?
Elmer's art is absolutely amazing. I'm really impressed to see him do such justice to both Robotech and Voltron characters, and he's a longtime fan. Incidentally, we were familiar with one another's work as we had both worked on Speed Racer in the past. Our universes intersected again as he had been working with Soda Pop Miniatures, the talented team that is now working on Robotech RPG Tactics under the "Ninja Division" moniker. I had been trying for quite a while to recruit Elmer for a comic project and I'm excited to finally have this wonderful opportunity.
What's next for the Robotech world? And will Voltron stay a part of it?
We've got some great new projects up our sleeve, including Robotech: Shadow Rising, our next animation production which will not be a moment too soon for anxious fans.
In an amazing coincidence, Tony Lee is also working on a comic for Dynamite, Starbuck, with issue 1 shipping next month.