Alasdair Stuart writes;
I was very fond of the original Bloodhound series, available in a collected edition now, I'm delighted to see. I was even more delighted to see Clev make his triumphant, bloody knuckled return to comics last week. He's both huge fun and a unique character; a normal profiler who specializes in superhumans. It's a really fun concept and neither Clev, or his creative team, have lost a step during his lay off. Here are the six reasons why;
1.Peace and Jigsaws
It's a very smart move having Clev try and reconnect with his family. Firstly because it's a neat way of showing that time's passed between the two series and secondly because there are few things funnier than a man that size in a sweater that awful.
2. Chekov's Rights Discussion
This scene pays off massively later on and it's one of the most grounded takes on superpowers I've seen in a long time. It makes perfect sense for people who don't have them to want them and the ethical blindspot ('Of course I'D use my death vision powers responsibly! And I'd kill anyone who said different because I'd have DEATH VISION!') is nicely laid out. This is an unwinnable argument, but, thankfully,a  theoretical one. At this stage…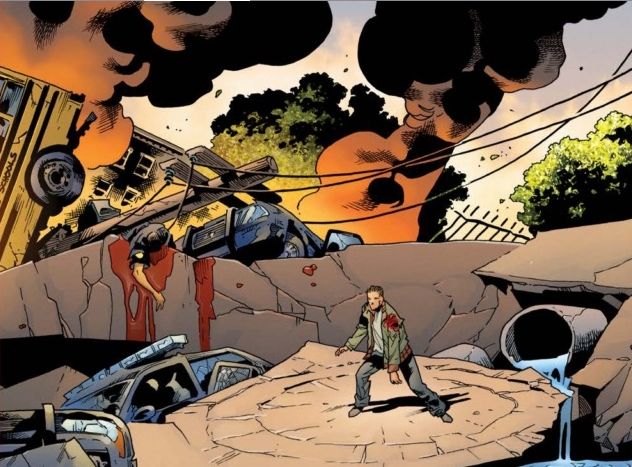 3. Great Power
This is where most books would stop. Horrific property destruction, ghastly loss of life and already people warming up their keyboards to explain how it's all a pale imitation of that scene in Miracleman. It doesn't matter, for two reasons. The first is that the violence is genuinely horrifying, and extensive. Believe me, there's a chap I had to cut off the screen grab who could sit next to himself on the Tube. The second reason?
4. Great Responsibility
That single panel is why this series is brilliant. This book never loses sight of the people behind the abilities. The abject, blank faced horror as he realizes what he's done is perfectly realized and instantly flips our sympathies around. Here, everyone's a victim.

5. New Scars
It's such a simple thing; a man that size still being mortal, but it works so well. Clev's brilliant, insanely tough but completely human. That, combined with his size, gives the book a welcome air of genuine danger.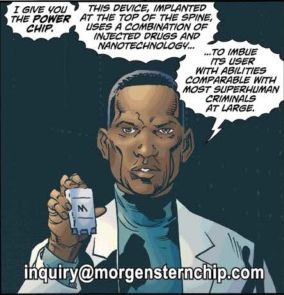 6. Chipping In
This is it, the moment where Clev's fluid, dangerous but relatively normal world changes forever. Again it's a wonderfully balanced scene. After all, Doctor Morgenstern has a point. However, anyone who can commandeer every TV station in the country maybe hasn't received any deliveries from the Rational Store for a little while. He clearly seems to have good intentions, but just how extensive will the screening be? What are the costs? What's his angle? And how much trouble is Clev in? Well, we at least know the answer to the last question.
Bloodhound: Crowbar Medicine is written by Dan Jolley, with art by Leonard Kirk and Robin Riggs. Moose Baumann worked on the colors, lettering was by Rob Leigh and Kirk and Baumann did the cover. It's published by Dark Horse, is priced $3.99 and is out now.  Brassknuckle Psychology, the collection of the first Bloodhound series, is also out now priced $19.99
(Last Updated
October 25, 2013 4:57 pm
)
Related Posts
None found