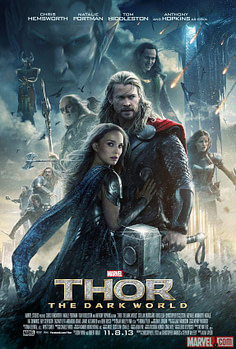 Okay, I'll tell you upfront: I'm not going to reveal what the mid-credits tag scene in Thor: The Dark World is. You'll have to go see the movie yourself and find out.
Or, you know, Google up some wanton spoilage.
But I am going to share what the film's director, Alan Taylor, and Marvel Studios' bossman Kevin Feige had to say about the scene. You may be very surprised. And do be warned, you'll find out which other Marvel movie it relates to, and you may consider that spoiler enough.
I was speaking to Alan first. Here's that portion of our conversation.
BC: So, while we're talking about this film's connections to the rest of the Marvel universe I have to ask, did you shoot the tag at the end?
AT: By tag do you mean the middle thing, the one in the middle of the credits?
BC: I mean the one in the middle.
AT: I absolutely did not. I am very happy to not take responsibility.
BC: So was that James Gunn?
AT: I wouldn't blame it on James Gunn.
BC: Blame?
AT: Er… I wouldn't attribute it to James Gunn… it's clearly his sets and his characters…
BC: So you're not quite comfortable with it?
AT: I am very happy not to take responsibility for that…
BC: It's a different tone for sure, huh?
AT: It's a different tone. I would have shot it differently. But I think it's cool that it reaches out and touches that other universe. That universe is coming. The Guardians universe is really cool and wacky… but that sequence in the credits, I would say, is the only part of the movie where I'm happy to give the credit away…
A little surprised by this reaction, and definitely unclear as to who exactly had directed the scene, for sure, I spoke to Kevin Feige about it afterwards. Here's another chat excerpt, this time between Feige and myself.
BC: I spoke to Alan a little bit about the mid-credit sequence and he said he didn't shoot it but he wouldn't say who did.
KF: James Gunn.
BC: And very recently, or..?
KF: Relatively recently. Within the last three or four weeks.
It seemed to me like Kevin and I were considerably more satisfied with the scene than Alan Taylor was. Of course, it's a director's prerogative to have a clear, defined taste and to express that taste.
You'll judge the scene for yourselves, I'm sure, when Thor: The Dark World opens in UK cinemas on October 30th, global IMAX cinemas on that same date, or across the US on November 8th.
And remember that as well as that mid-credits scene, there's another one after the credits. Something else entirely…
Stay tuned for a lot more from Alan and Kevin. There's a lot more to learn about the Marvel Movieverse.