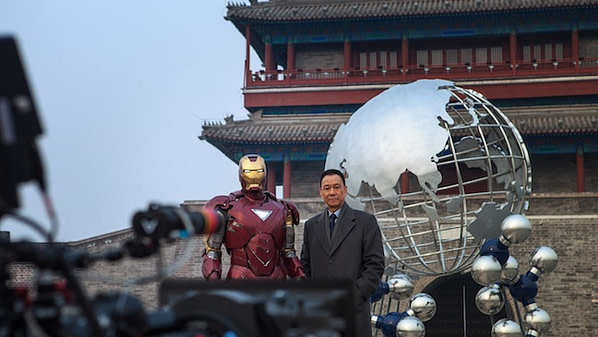 Last week, I sat and had a good ol' chinwag with Thor: The Dark World producer and Marvel Studios maestro Kevin Feige, and you'll be able to read a lot more from that both here on Bleeding Cool online over the next few days on and also in the next issue of our magazine. You can tell your local comic book shop to set aside a copy for you now as that particular material will be exclusive to the magazine.
Yesterday, though, I had a chance to speak to Kevin a couple more times. On one occasion, I was sharing him with a young journalist from the Chinese press. It's the answer to this chap's rather salient question that I'm about to present.
This young man wanted to know if Marvel have any plans to follow through with more content set in Asia after the Iron Man 3 co-production "experiment." Here's what Feige had to say:
I think [we] will and I think you'll see it in a more naturalistic way that is built into the movie from the start. Obviously we're happy with the result in China, the box office was huge and second only to the United States, and overall people really enjoyed the movie and liked it, they just asked "What is this element? You don't have to cater to us in this way." Frankly, I think that's the lesson.

But we do have plans in some of the upcoming movies, just based on the story that we wanted to tell, that includes more of the world in a way that actually flows naturally into the story… [that will include] both asian characters and settings.
That sounds to me like already-planned stories will be taking us around the world. Well, one of those will be your Black Panther movie, right there. I'm very, very confident we'll be seeing that film announced next year for release during Phase 3. Very, very, very confident.
And it also sounds like there will be specifically Asian characters and settings too… though I'm finding it harder to imagine what exactly these might be.
Anyway, back to more immediate concerns, and not just an international story but an interdimensional one. Thor: The Dark World will be released in the UK on October 30th. That's also when it's global IMAX release will happen, ahead of its November 7th roll out wide across the US.