Amanda Gurall writes;
The Walking Dead panel was the epicenter of the main stage insanity today and those of us who waited all day (including a couple of torturous CW panels) were rewarded in spades by the always awesome Robert Kirkman, the over talented Greg Nicotero, Gale Anne Hurd and new show runner Scott Gimple as well as a majority of the cast.   Quite seriously I still have ringing in my ears from the screaming fans but it was all well deserved.
The director of this episode, Nicotero entered the room wearing a walker mask.  I was thrilled to have him included in the panel as I've been a fan of his work for many years. Hurd and Gimple teased us, forcing us to cheer for a never before seen clip and we happily obliged. I will not spoil the TWO clips we ended up seeing in the room but I will say they may have involved a homicide detective and air transportation. You're just going to have to wait until tomorrow night.
Yvette Nicole Brown was the moderator and as much as I did miss Chris Hardwick this year she was absolutely hilarious and helped a great conversation along. She confessed she ships Carol and Daryl and Norman Reedus answered that his character is growing into the man he never would have grown to be now that Merle is gone and he has bonded so much with the group.  As for Carol? He did refer to her as "my Carol" at one point so we can draw our own conclusions.
And what is this season's biggest threat? According to Kirkman it will be squirrels who are immune to Daryl Dixon. Possibly a few walkers…..Greg Nicotero was especially excited about a new walker they have created who has the forest growing into him.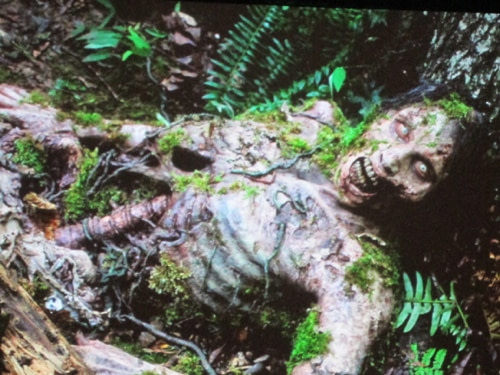 Beautiful, right? Nicotero said they are pushing the limits this season and we will see a lot more walkers and more threats. Then he called Melissa McBride, who was home with the flu so we could tell her to get well soon.  Andrew Lincoln did end up saying that there is an episode this season that left him so stunned and upset he could not speak for ten minutes and had to call someone for human contact as soon as he was able to speak.
A man stepped up to ask a question and started advancing to the stage asking for Abraham, verbally assaulting Gimple and pulling off the mask and coat he was wearing. Turns out it was actor Michael Cudlitz who will be playing Sgt. Abraham Ford himself! He did not join the panel but Kirkman discussed the previously announced addition of Christian Serratos playing Rosita and then told us Josh McDermitt will be playing Eugene in all of his mulleted glory.
The panel was one of those con experiences that stick with you for a lifetime. The cast and crew are exceedingly good to the fans and we really appreciate it. Every single one of them were genuine and seemed to really love discussing the show.  I will leave you with a shot from tomorrow nights episode featuring Daryl. You're welcome.