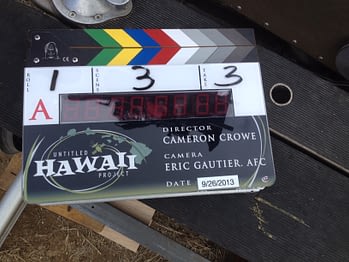 I've been following progress on Cameron Crowe's latest film for something like six or seven years now, since it was going to be called Deep Tiki and star a series of actors who now have nothing to do with the project at all. I won't bring those names up again, though. Let's focus on who Cameron has matched to the roles today.
The leads of the film are Bradley Cooper and Emma Stone, playing a defence contractor and a pilot who have a change of heart about the launch of a weapons satellite and conspire to thwart its Hawaii-set launch. In the drafts of the script I read the third lead was a youngster, who may or may not have been cast under the radar or written out but doesn't seem to be popping up on any of the recent reports.
Jay Baruchel is onboard too, alongside Edi Gathegi, Rachael McAdams, Alec Baldwin, Danny McBride and, according to a new report at The Wrap, Bill Murray. His deal isn't sealed as yet, but there's no reason to expect it won't close soon.
There's no indication which role Murray would play but I have a hunch that he might be taking a voiceover-only role, playing the part of a talking computer called Jeremy. That would make sense.
Or maybe he's got a smaller, on-screen role. I don't know. Either way, I love Cameron Crowe's wit and humanitarian warmth, I love Bill Murray for just the same reasons, no matter how much he spreads the crabbiness on top, and I was really hooked into this story on the page. I think this film might take a lot of folk by surprise, and I'm certainly looking forward to its release – finally! – somewhere near the back-end of 2014.
Enjoyed this article? Share it!