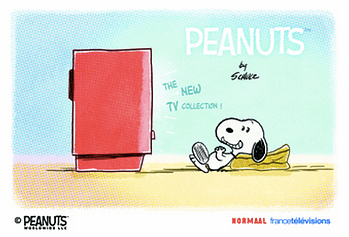 I've done a little digging for more information than was officially released and can tell you that France's Normaal Animation are at work on 500 new animations based, and sometimes very, very closely so, on Charles Schulz's classic Peanuts comic strips.
Unlike the Peanuts feature film, being developed by Blue Sky and 20th Century Fox for release late in 2015, the shorts won't be in the 3D CG-modelled style but ape the look of the 2D strips much more closely. One image has been released – you can see it in this post – but it's not 100% clear yet if that's the exact look they're going for.
I do wonder what the new shorts will sound like, both in terms of voice over and music. The Vince Guaraldi music of the TV specials has become so intimately entwined with the feel of Peanuts for me, I can't really imagine what might – if necessary – replace it.
Each of the new toons is going to run around 90 seconds in length. I guess France 3, and whichever global broadcasters buy in, will scatter them about their schedules. I can think of far worse ways to buffer a soap opera against a game show.
Peanuts speaks to me of a forgotten America, but Schulz's ideas – and the love of a good beagle – are certainly international.
Enjoyed this article? Share it!