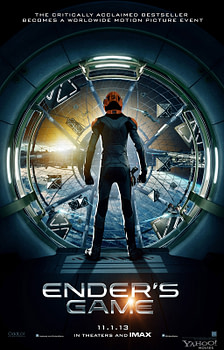 Last night, I pushed Becky Lewis onto the frontline at the Ender's Game red carpet. Armed with questions we'd prepared together, she was ready to snare Ben Kingsley, Harrison Ford, director Gavin Hood and the film's young leads, Asa Butterfield and Hailee Steinfeld.
There's never enough time at these events, and so the amount we have to share is directly proportionate to how quickly the interview subject talked. Ben Kingsley, I don't think you'll be surprised to hear, managed to impart the most – at least in terms of sheer word count.
Harrison Ford? Somewhat more measured. What you'll read below are his answers to several questions, and you'd probably find it hard to guess exactly what those questions were.
Ender's Game opens across the UK on October 25th then on November 1st in the US. I've actually got a pretty good feeling about this one.
Ben Kingsley: I think audiences will talk about this film for a very long time because it has many layers. Expect a film that doesn't insult your intelligence.
Mazer Rackham is very pure. He's got quite a strong silhouette that never changes throughout the film. I did ask the costume designers if I could always look the same because I wanted to present to the young actors as Mazer Rackham would present to his students: a very clear, very determined, futuristic warrior silhouette. And to add to that silhouette, I was blessed to have Maori tattoos on my face, that apparently represent in New Zealand culture not only you but your Father, before him, before him, before him… so you get a lineage of your status as a warrior and your warrior family all written on the face. To arrive on set with those tattoos did give the other actors an attitude towards my face, and they would look at my face in the most extraordinary way whilst they were acting. The camera caught this too.
Rackham is just a warrior, that's what he does, and that's the force that has be brought to bear on Asa's character [Ender]. We teachers, tutors, generals are there to shape him and mould him into what we want and I think that one of the many glorious aspects of the film is the question of whether we are going to change that boy's soul forever. We see at the end of the film whether we have or not, and I think the films [shoooosh] up at the end.
Harrison Ford: I've never done stunts, I've done physical acting. It's the stunt guys who do the stunts. I don't remember my first meeting with Gavin [Hood, the director]. I think we sat down and read the script together, the dialogue in the scenes for the character that I play. I think we talked in general about the whole thing, just had a nice chat.
Hailee Steinfeld: This was honestly one of the best experiences I've had, from the very beginning with all of the physical preparation, through filming the movie, and then watching it all come together. Working with Sir Ben and working with Harrison… they're incredible and it's great that, after admiring them as actors, I got to admire them as people.
A lot of the themes are very relevant in this film, sure, and I think it will be very interesting for families to go and see it and to be able to talk about it. These ideas are something people are talking about.
Ender's Game is my third film and before this I'd made two period films. Going from that process where I was surrounded by props and sets creating a specific time to going in front of a green screen where I had nothing but my imagination was definitely a challenged for me. But it's so visually beautiful.
Asa Butterfield: For me, making this film was a case of convincing myself that I was seeing these things, these spaceships flying through the air, that I was shooting this person with my laser gun. Gavin's energy, that he was projecting and we were absorbing, almost, was convincing us that we were seeing these things.
I think the portrayal of kids going to war is one of the big questions posed [by this film], one of the things that, afterwards, a family can go and discuss children in war. It was relevant thirty years ago when the book was written and I'm sure it will still be relevant thirty years from now.
Gavin Hood: When you're writing a script your focus is on just writing that script as well as you can. You don't know that you're going to get Harrison Ford, but that script is your best chance of convincing him – he's not doing you any favours. I was very pleased that when he did read the script he responded as positively as he did, not just because it's such a thrill to get somebody with that wonderful sci-fi status but also his wonderful compassion and gravitas.
The character of Colonel Graff really has to be a huge charismatic presence and he's very manipulative but underneath that, you really want somebody who has real compassion so it's a struggle for him to do what he does to this kid. It would be too easy to get somebody who is a lesser actor, somebody who is a bad general who just yells at the kids. Actors like Harrison Ford and Viola Davis bring me nuance and layers.
Thanks again to everybody for taking the time to talk to Becky – indeed, taking their time talking to Becky. Later, I'll bring you word on what Craig and myself were doing during this episode and what else we were able to learn.