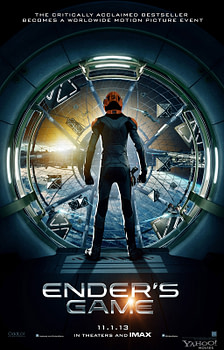 On the 7th of October between 6:30pm and 8:00pm there will be an Ender's Game panel in London and you can attend for free.
The panel will take place in the West End of London – in one of the bigger cinemas in Leicester Square would be my guess – and a number of stars will be in attendance.
According to the press release the following guests will be there,
Harrison Ford, Asa Butterfield, Hailee Steinfeld, Ben Kingsley, Gavin Hood, Bob Orci and Gigi Pritzker.
There will also be props from the film and "never before seen footage" shown.
If you are interested in attending then you need to go to the MCM Comic-Con website tomorrow (Tuesday) evening at 6pm to claim your free ticket. I'd get there a little early though and keep hitting refresh if I was you, I have a feeling these tickets are going to go fast.
UPDATE: More tickets to the event are available at a new link. Give this a go if you still don't have a pass but harbour a burning question for Harrison Ford.