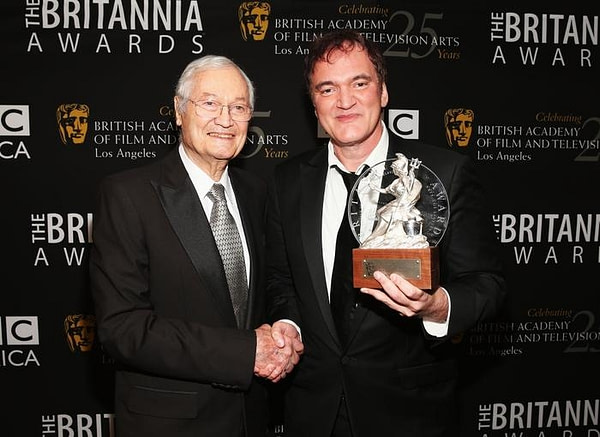 UPDATE: The Telegraph got it wrong. Somehow. Maybe because Roger Corman got it wrong, or maybe because they just misreported.

We know this because of the following tweet from Joe Dante.

Quentin is a great filmmaker and a good friend, however there is absolutely no truth to the stories that he is going to play Roger Corman.

— Joe Dante (@joe_dante) September 20, 2013
For his part, Corman's Twitter account offered:
I can neither confirm or deny "@goldenglobes: #QuentinTarantino to play @RogerCorman in @joe_dante's biopic 'The Man with Kaleidoscope Eyes"

— Roger Corman (@RogerCorman) September 20, 2013
So that's where we are right now. What follows is the original story.
A few years back, Colin Firth was the man set to take up the lead role in Joe Dante's Roger Corman biopic, The Man With The Kaleidoscope Eyes.
Now that the film is on again, and apparently nearing production, there's been a somewhat dramatic change of plans, as Corman himself is now saying that he's going to be essayed by none other than Quentin Tarantino.
This is according to The Telegraph, who quote Corman – but don't include the bit specifically about Tarantino inside the quotation marks:
It's the story of how I made The Trip in the 1960s about LSD. It starred Jack Nicholson in one of his first roles and I took LSD so I knew what it was all about. It was very controversial but it was the only American picture invited to the Cannes Film Festival that year.
They did, however, relate Corman's wording on precisely which role in the film he has himself:
I have a cameo role in the movie about it, playing the executive who didn't want me to make the film.
The first time I saw Tarantino act, I had no idea what I was looking it; this was during an episode of The Golden Girls, playing in the background, almost outside of my field of attention. It was only later, when his appearance in the episode became a well traded piece of trivia, that I reflected on seeing the episode at all.
Brilliantly, Tarantino was playing an Elvis impersonator. Here's the clip. You may want to skip ahead to 1 minute and 33 seconds.
[youtube]http://www.youtube.com/watch?v=0YaMTL_kBYk[/youtube]
Once seen, never forgotten. He's never been better.
I trust Joe Dante implicitly, and I can see that Tarantino will understand a lot of things about Roger Corman innately. Let's see how this turns out.
And finally, here's Tarantino paying tribute to The King of the Bs.
[dailymotion]http://www.dailymotion.com/video/xb7031_2009-governors-awards-quentin-taran_shortfilms[/dailymotion]
[dailymotion]http://www.dailymotion.com/video/xb705p_2009-governors-awards-quentin-taran_shortfilms[/dailymotion]