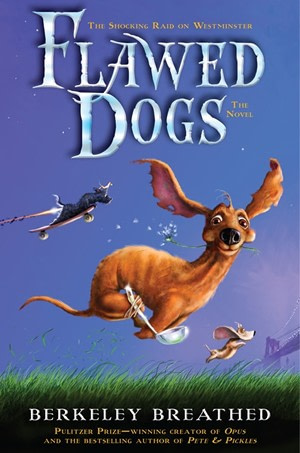 I've confirmed that Noah Baumbach, director of Frances Ha, Greenberg and The Squid and the Whale, has been secretly directing an animated movie for Dreamworks. He has some experience with both the form and the studio, having co-scripted Madagascar 3.
This picture is an adaptation of Berkeley Breathed's Flawed Dogs, a series of that's gone from the Piddleton Pound picture book to, more recently, Breathed's first novel, The Shocking Raid on Westminster.
Baumbach's screenplay is based largely on this novel, with some plot rewiring, the odd name change and also material around the edges that will be drawn from the earlier picture book.
Visual development on the film has looked into how much of Breathed's very recognisable, quite wonderful style can be translated to moving CG imagery. I imagine it shouldn't be too hard for Baumbach to render the film and its cast of off-kilter dogs in a very faithful style, should he ultimately choose to do so.
I think it's worth noting that we're still some years away from this film's release. Looking at Dreamworks' schedule, they're booked up until the end of 2016. Their other project from a live action director making first moves into animation will have to wait until then, too, but that's a story for another time…