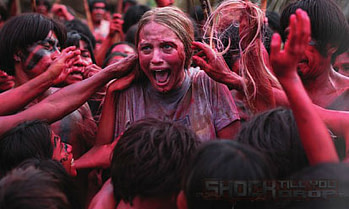 Last night saw the premiere of Eli Roth's ambitious cannibalism-vs-activism scare picture The Green Inferno at the Toronto International Film Festival. I'm disappointed that I wasn't there, particularly as first impressions on social media and from a couple of friends who did attend are very positive indeed. I understand that there are some great surprises, a lot of horrendous imagery and a real sense of dread. Sounds great.
Roth has confidence in the film too, having already co-written a sequel called Beyond the Green Inferno. It was announced twice – at a buyers screening and then after the main, public premiere – that Beyond is set to get rolling in the first film's Amazonian locations as soon as the rainy season is over, with the first film's co-writer and Roth's Aftershock collaborator Nicolas Lopez directing.
Unfortunately, the only half-accomplised Aftershock is arguably the least of both Roth's films as writer and Lopez' films as director. A number of its problems stemmed from a juxtaposition of expensive set pieces and low budget, however, so a different context could see Beyond work better with Lopez' skillset.
According to The Hollywood Reporter, who chased Roth and Lopez for some quotes after the announcement, the new film has a third writer, Guillermo Amoedo.
Roth promises:
We want to take the story to an even darker and scarier place on all levels
While Lopez notes:
Our plan with Beyond the Green Inferno is to make a sequel in the tradition of Aliens, where the creative team went bigger, darker and scarier into the unknown.
Aliens is scarier than Alien? Not a chance. But bigger? Sure.
We'll soon see who has distribution rights to The Green Inferno, I'm sure, and following that, when it will go on release.