Here in the UK, Channel 4 have scheduled the first episode of Marvel's Agents of SHIELD for the pre-watershed, 8pm slot on Friday 27th of September. That's great because while it does skew just a little older, maybe, than the big-screen Marvel movies, it's definitely still family friendly.
Brilliantly, they're going to be following that series premiere with the big finale of The IT Crowd. Not that it's brilliant The IT Crowd is ending, mind, just where they've decided to schedule it.
I can't imagine I'll be making any live updates to Bleeding Cool during that double bill,* not even if Pixar announce a new collaboration with Terry Gilliam.
Okay, maybe then. But only then.
I think this is the first official image from the new IT Crowd. A first official image, in any case.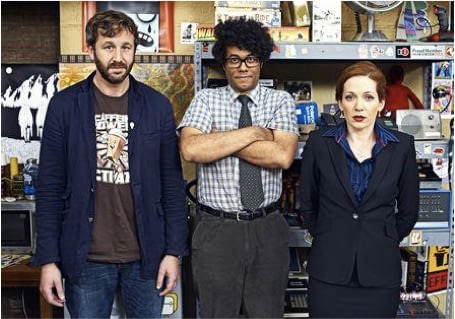 That's three more weeks now. How bittersweet.
*Technically, right now, I can't confirm 100% that The IT Crowd will be on at 9pm. It may be 10pm. Or 9.30pm. But I'm 95% sure it's 9pm, and 100% sure on the day. Good enough?
Enjoyed this article? Share it!