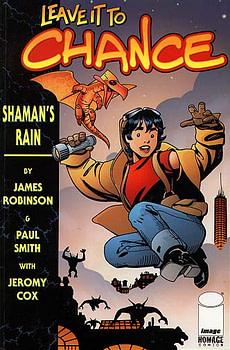 As well as his upcoming Spider-Man: Family Business project with Mark Waid and Gabriel Dell'Otto, James Robinson told fans at Fan Expo Canada that he will be writing two Marvel monthly books he said.
Could that be two launches for the Marvel Now Two project coming at the end of the year/beginning of 2014?
He also let it be know that IDW is trying to make contact with Paul Smith over an Artists Edition of their Image series Leave It To Chance, a series he'd also like to revive at Image with Smith.
Anyone seen the fellow of late?
James Robinson replies;
So the Leave It To Chance IDW stuff on Bleeding Cool was very misquoted. Not true. The other stuff…stay tuned.

— JamesDRobinson (@JamesDRobinson) August 26, 2013
UPDATE: Scott Mills shares our notes with us so you may interpret them yourselves;
Fan: With Image books seeing a bump in sales and kids books being so popular have you thought about bringing back Leave it to chance?

Robinson: To be honest I would love to, but Paul Smith moves around so much I don't really have a way to contact him right now. Qith that said, he is working on Spirit/Rocketeer right now and I know that IDW wants to do a Leave It To Chance Artists Edition so at that point they would have to contact both Paul and me and I would get his contact info then and find out if he would like to bring the book back.
It may just be a question of wording.